KILLING MONSTERS: FIGHT CAMP 2014 / Stage Combat Courses BEGIN JUNE 2!
KILLING MONSTERS: Fight Camp 2014

All classes at the Atlas Performing Arts Center
Taught by Casey Kaleba, fight choreographer of the upcoming She Kills Monsters
Mondays 7pm-10pm, June 2-June 23
$100 for all four sessions / $30 per class for single "drop-in" rate
CLICK HERE MAKE YOUR RESERVATION NOW!

Sharpen those swords and spend some time learning stage combat in a way only Rorschach Theatre can deliver. Taught by Rorschach Theatre company member and resident ninja* Casey Kaleba, these classes will introduce participants to the stage combat techniques and style used in this summer's production of She Kills Monsters.
Rooted in traditional stage combat technique, but drawing from a wide range of approaches and styles, these classes can be taken as a whole training program or as a series of drop-in classes. For performers and students with no experience, these classes will offer an excellent introduction to stage combat theory and practice. For those already familiar, it's a chance to refresh skills and pick up some new tricks. All classes will teach through choreography, with an emphasis on stage application.
For questions, please email our Camp Adminstrator, Daniel Corey at classes@rorschachtheatre.com.
I. ROLL FOR INITIATIVE
Monday, June 2, 7pm-10pm
Lab 1, Atlas Performing Arts Center
All the basics of stage fighting without weapons: body, audience, partnering and flow. Starting with rolls and falls, we'll cover a range of common techniques in the barroom brawl style, from slaps and head butts to jabs and straights, with focus on selling the technique effectively and expressing character through violence.
II. THE VORPAL BLADE WENT SNICKER SNACK!
Monday, June 9, 7pm-10pm
Lab 1, Atlas Performing Arts Center
Stylistic use of the sword on stage. Building on the basic broadsword form we'll adapt it for use with fantasy weapons, with an emphasis on edge technique, dynamic action, and martial physicality.
III. CHARACTER CLASS
Monday, June 16, 7pm-10pm
Lab 1, Atlas Performing Arts Center
This class will tackle differences in fighting style based on physical differences in fighters. Playing with human and animal biomechanics, we'll look at different ways to physically create orcs, giants, dwarves, owl bears and bug bears, and Orlando Bloom.
IV. TWO HANDED FIGHTING
Monday, June 23, 7pm-10pm
Lab 2, Atlas Performing Arts Center
Polearms, axes, swords, knives…double your pleasure, double your fun. This final class takes everything we've learned all summer and asks you to be ambidextrous with it. Starting with basic staff work, we'll build a fight that employs a wide range of combination and off-hand combat.
ABOUT THE INSTRUCTOR: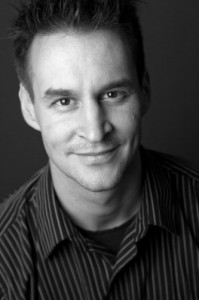 * Casey Kaleba is not really a ninja. But we like to think he could be. He has, however, arranged violence more than three hundred stage productions, and has been with Rorschach since Fair Ladies at a Game of Poem Cards. DC area credits include Folger Theatre, Round House Theatre, Signature Theatre, Washington Shakespeare Company, Forum Theatre, Castleton Festival, Shakespeare Theatre Company, Hub Theatre, Source Festival, Olney Theatre, Studio Theatre and Constellation Theatre Company. He has created movement for knights, musketeers, princesses, zombies, wolves, pirates, ninjas, and at least one alien tentacle. Casey trained with physical artists from across the globe, and is a certified instructor with the Society of American Fight Directors and has served as a guest artist in Sweden and Canada.