Be a part of THE TOXIC AVENGER! Rorschach is kickstarting it's first musical!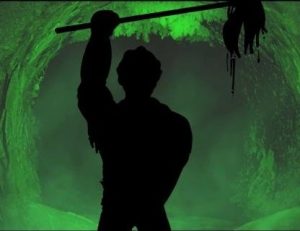 The Earth is warming. The waterways are polluted. Our bodies are poisoned by invisible radioactive particles. We're pretty much DOOMED! Enter New Jersey's greatest (filthiest?) hero as he invades DC to finally drain the swamp and save us all from ourselves. He is… THE TOXIC AVENGER!
For the first time in their 20 year history, the award-winning company Rorschach Theatre is breaking new (unpolluted) ground by staging its first musical, THE TOXIC AVENGER! based on the cult classic Troma film.
The best part of TOXIC AVENGER … we get to do it with YOU! Here's what we're asking for: $20,000 for 2020 for our 20th season. Has a nice ring to it, right? Check out the video below and CLICK HERE to find about all the cool perks that come with giving.
THE TOXIC AVENGER! is the kind of story we love to tell at Rorschach: It challenges us to stage the "impossible" and it prompts audiences to consider a broad problem without proselytizing – all while immersing the audience in a fun, stylish aesthetic.
Plus, we have a thing for making monsters like vengeful ghosts, talking frogs, jelly monsters, and giant hogs …  And unforgettable musical moments from magical drag queens, underworld dwellers, and dance-fighting fairies …