THE RORSCHACH BOOK CLUB: FUN HOME – November 6 @ Solid State Books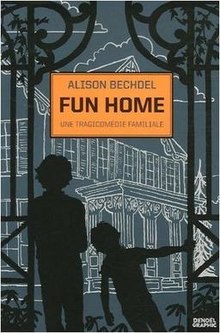 Join Rorschach Theatre as we discuss Allison Bechdel's darkly funny family tale FUN HOME.
In this graphic memoir, Alison Bechdel charts her fraught relationship with her late father. Distant and exacting, Bruce Bechdel was an English teacher and director of the town funeral home, which Alison and her family referred to as the Fun Home. It was not until college that Alison, who had recently come out as a lesbian, discovered that her father was also gay. A few weeks after this revelation, he was dead, leaving a legacy of mystery for his daughter to resolve.
This event is part of OTHER PEOPLE'S INK, monthly events in which our artists and audience come together to explore art galleries, cinema, author events and other adventures that feature work with a Rorschach flavor, especially events that relate directly to Rorschach's current production.
The selection of FUN HOME was inspired by SHE KILLS MONSTERS's themes of grief after loss, sexual identity, and coming to terms with reality through fiction.
DISCUSSION DATE:
Wednesday, November 6, 2019 6-8PM at Solid State Books
This is a free event. Solid State offers a menu of beer, wine, coffee and other delicious bites. (*we welcome anyone interested in listen in to the conversation whether or not you've read the book.)
Rorschach Book Club members receive a 10% discount at checkout! Order in advance or pick up your copy at Solid State Books.