THE TOXIC AVENGER (1/31-3/1): Tickets on sale NOW!
Book and Lyrics by Joe DiPietro
Music and Lyrics by David Bryan
Directed by Tracy Lynn Olivera
Music Direction by Jake Null
January 31, 2020 – March 1, 2020
Silver Spring Black Box (next to AFI)
Rorschach Theatre's first musical follows Melvin Ferd the Third, who is dumped into a vat of radioactive toxic waste, only to reemerge as The Toxic Avenger, a superhero hell-bent on cleaning up America. A seven-foot mutant freak with superhuman strength and a heart as big as Newark, he's out to end global warming*, woo the blind librarian in town, and save the world.
Based on the cult classic Troma film, THE TOXIC AVENGER, and directed by Helen Hayes Award Winner Tracy Lynn Olivera, this show takes Rorschach's one-of-a-kind aesthetic and spins it in a whole new direction.
Classic B-movie tropes of monsters-run-amok, star-crossed lovers and comically evil politicians collide with an 80's Hair Band Rock aesthetic to tell a tale that's both gruesome and glorious.  With a set design by Pointless Theatre Company's Patti Kalil and video design by 9:30 Club VJ and American University professor Kylos Brannon, audiences will be immersed in the sights and sounds of the most polluted town in New Jersey: "If the pollution doesn't kill you, the aroma will."
* We won't make you think about actual global warming in this comedy about global warming. We might make you cheer when the arms are ripped off of climate change deniers, but we promise we won't make you think. Unless, you know, that's your thing. We are what you see after all…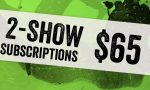 CLICK HERE FOR LOW-COST
MID-SEASON SUBSCRIPTIONS!
$65 FOR TWO SHOWS + KLECKSOGRAPHY!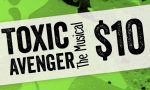 CLICK HERE FOR OUR 10@10 PROMOTION!
THERE ARE 10 TICKETS SET ASIDE AT $10 
FOR EVERY PERFORMANCE!
THE TOXIC AVENGER runs January 31 – March 1 with shows on:
Thursdays, Fridays, and Saturdays at 8pm and Sundays at 3pm
Additional show on Monday February 24 at 8pm
ALL SHOWS ARE AT THE SILVER SPRING BLACK BOX
(Near the Silver Spring Metro, Next to the AFI)
FEATURING Ricky Drummond, Jordan Essex, Tess Higgins, Emily Levey, and Joshua Simon
DESIGNED BY Patti Kalil (Set), Frank Labovitz (Costumes), Katie McCreary (lights), Gordon Nimmo-Smith (Sound), Alekx Shines (Props), and Kylos Brannon (Projections)
CHOREOGRAPHED BY Ashleigh King (Dance Choreography) and Casey Kaleba (fight choreography)
STAGE MANAGED BY Abby Wasserman (Stage Manager), Sam Linc (Assistant Stage Manager)
WITH Lee Cromwell (Production Manager), Jeremy Jackson (Associate Production Manager), and Kristina Manente (Sound Engineer)
MUSICIANS: Jaime Ibacache (Guitar), Jason Wilson (Bass), Dana Gardner (Reeds), and Alex Aucoin (Drums)
DIRECTED BY Tracy Lynn Olivera.  MUSIC DIRECTION BY Jake Null
PRODUCED BY Randy Baker and Jenny McConnell Frederick