Magic In Rough Spaces: 2021 New Play Lab April 19-22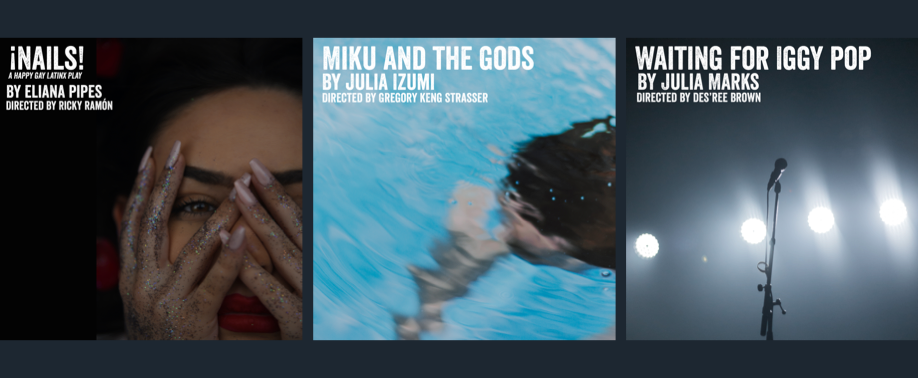 Three new pieces developed by Rorschach Artists are coming straight to your living room!
This year's Magic in Rough Spaces New Play Lab (MIRS) is virtual…again! Join Rorschach Theatre on April 19, 21, and 22, 2021 for three online readings of brand new works. Each reading will include a short presentation from a designer about a theoretical design for the show and a post-show discussion with the playwright, director, and performers.
After each play is broadcast, the videos will remain available online for viewing until April 29.
* Purchasing a ticket is NOT required.
The links to shows below are available to everyone and you will be able to see the readings without having purchased a ticket, but doing so is a way to support the theatre and the program.
You can also make a tax-deductible donation to Rorschach Theatre at any time by clicking HERE.
---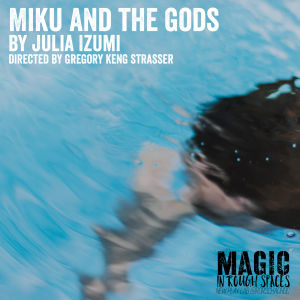 MIKU AND THE GODS
By Julia Izumi
Directed by Gregory Keng Strasser
April 19, 2021 @ 7PM: Online Performance
Miku wants to be a god. Ephraim wants to be an Olympian. Grandma wants to remember. And Shara wants people to just include him in the conversation, you know? But what do the gods want? What do beings who have everything in the world want? Miku, and the gods is an epic and small adventure that braids friendship, death, and power beyond what one could ever desire.
FEATURING Linda Bard, Ivan Carlo, Tuyet Thi Pham, Ahmad Maaty, Momo Nakamura, Dan Pyuen, and Tori Boutin / DESIGNED BY Debra Kim Sivigny / DRAMATURGY BY Aria Velz / AUDIO VISUAL DIRECTOR Gordon Nimmo Smith / PRODUCED BY Jenny McConnell Frederick and Randy Baker
ABOUT THE PLAYWRIGHT: Julia Izumi's work has been developed and presented at Manhattan Theatre Club, Clubbed Thumb, Bushwick Starr, WP Theater, Berkeley Rep's Ground Floor, SPACE on Ryder Farm, Oregon Shakespeare Festival, Ojai Playwrights Conference, Seattle Rep, Barn Arts Collective, The COOP, NNPN/Kennedy Center MFA Playwrights' Workshop, Great Plains Theatre Conference, Williamstown Theatre Festival, CAATA's National Asian-American Theatre ConFest, and Pork Filled Productions. Honors for her work include the OPC Dr. Kerry English Award, O'Neill's NPC Finalist, Kilroys List Honorable Mention, and KCACTF's Darrell Ayers Playwriting Award. She is a 2020/2021 New Georges Audrey Resident and an upcoming New Dramatists member. MFA: Brown University www.juliaizumi.com
---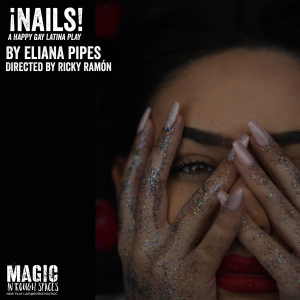 ¡NAILS! A HAPPY GAY LATINX PLAY
By Eliana Pipes
Directed by Ricky Ramón
April 21, 2021 @ 7PM:
Online Performance
¡NAILS! follows Catalina, a young Latina trying to screw up the courage to ask her crush Serena on a date.  There's only one problem: her fingernails are growing at a superhuman pace – a blessing for a Latina, but a curse for a Lesbian (at least at first glance).
FEATURING Savina Barini, Scott Whalen, Graciela Rey, Jordyn Stroman, Jesús I. Valles, and Malachi Sauls. / DESIGNED by Jeannette Christensen / DRAMATURGY by Aaron Simon Gross / COMPOSER AND LYRICIST Claire-Frances Sullivan / AUDIO VISUAL DIRECTOR Gordon Nimmo Smith / PRODUCED BY Jenny McConnell Frederick and Randy Baker
ABOUT THE PLAYWRIGHT: Eliana Pipes is a playwright, actor, and filmmaker. She's the recipient of the Academy Gold Fellowship for Women, the Leah Ryan Fund Prize for Emerging Women Writers, the National Latinx Playwriting Award, and a member of the 20/21 Dramatist Guild Foundation Fellowship cohort.  Her work has been developed or presented at the Playwright's Realm Scratchpad Series, NNPN/Kennedy Center MFA Playwright's Workshop, Ars Nova ANT Fest, and the Fire This Time Festival. She received a BA in English from Columbia University, and has just completed the coursework on an MFA in Playwriting from Boston University.  More at www.elianapipes.com.
---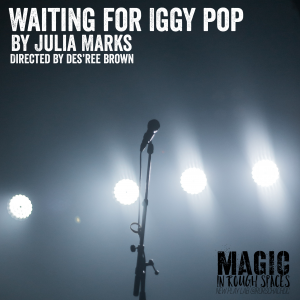 WAITING FOR IGGY POP
By Julia Marks
Directed by Des'ree Brown
April 22, 2021 @ 7PM:
Online Performance
A theatrical fantasy about love and boredom, a play for people who prefer concerts.  Girl's life is fine, but her life is boring. She has a family that feeds her, and friends who love her. They have big dreams, but she worries they'll never make it out the front door.
FEATURING Molly Boyle, Isaiah Mason Harvey, Sara Barker, Louis E. Davis, Kyle Starling, Gislaine Hoyah, and Danielle Gallo / ORIGINAL MUSIC by Shawn Northrip / DRAMATURGY by Jared Strange / MUSIC CONSULTANT Gabriel Ashton Brown / AUDIO VISUAL DIRECTOR Gordon Nimmo Smith / PRODUCED BY Jenny McConnell Frederick and Randy Baker
ABOUT THE PLAYWRIGHT: Julia Marks is an actor, writer, and theatre-maker currently based in Washington, DC. She graduated from the College of Charleston in 2017 with a BA in Theatre, and went on to train at The Gaiety School of Acting's full-time professional actor training course in Dublin, Ireland. Upon graduating in 2019, she formed a theatre-making organization, iiiStates Collective, with two of her classmates from the Gaiety School. In February of 2020, she wrote, produced, and performed in her original show, Cove Creek Boys and Summer Girls, at the Scene and Heard Festival in Dublin. Her short plays Homing and For How Janelle Monáe Once Made Me Feel were selected and published by Fishamble, a Dublin-based theatre company, as part of their Tiny Play Challenge during the COVID-19 pandemic. For How Janelle Monáe Once Made Me Feel was later produced by Fishamble as part of their Tiny Plays 24/7 online theatrical event. Over the summer of 2020, she was a member of  The Orchard Project's Liveness Lab, and she participated in Rorschach's Klecksography 2020, for which she wrote her short play, The New American Cookbook."