Magic in Rough Spaces New Play Submissions: DEADLINE EXTENDED TO DEC 1!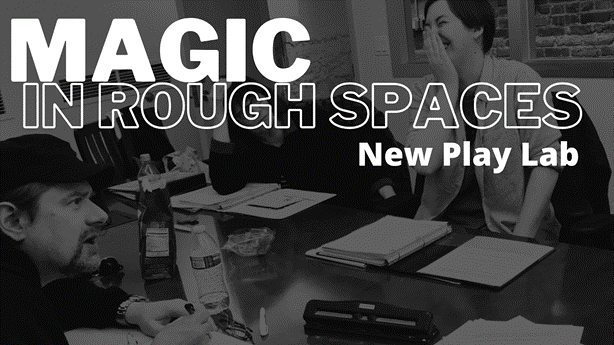 SUBMISSION INFORMATION: Magic in Rough Spaces 2022
Rorschach Theatre in Washington, DC seeks full-length plays for developmental workshops and public readings from April 22-25, 2022. The playwrights, one of whom will be DC-based, will spend about 10 hours during this weekend working with a director, dramaturg, actors and designers to set and achieve goals for their new work. The process will involve in-person workshops and virtual public performances. The plays will be performed along with a theoretical design presentation and audiences will have the opportunity to talk with artists in a live post-show conversation.
ELIGIBILITY: 
Magic In Rough Spaces is accepting scripts from DC-Area playwrights**
or BY INVITATION for playwrights not based in the DC-Area.***
WHAT WE ARE LOOKING FOR:
The play must be Full-length (~60-120 pages)
It must utilize magic realism
We are especially interested in plays that are epic in scope but intimate in their exploration of human psychology. Plays that include elements of mythology and the supernatural while remaining contemporary in their themes and settings. Plays that might be described as magic realism. Plays that might be described by some literary managers as "impossible." Please no domestic comedies or kitchen sink dramas…even if it has a ghost in it.
Generally the play must have a respect for and optimism about Humanity
Our sense of humor is pretty dark, and we're open to exploring all sides of the human condition, we're not necessarily looking for happy endings, but we tend to avoid scripts that go full nihilist.
It must be unproduced and unpublished. *
* Exceptions to the "unproduced" requirement: A university production where 50% or more of the cast were students, a one-night event, a production for which admission was not charged, a circumstance in which 30% or more of the script has been substantially changed following the production.
SELECTED PLAYWRIGHTS RECEIVE:
$100 stipend
Transportation to and from Washington DC and housing for out-of-town playwrights
A director, dramaturg, actors and designers for a one-week development workshop
A Public reading in the week of May 1 (recorded on April 25)
THE SUBMISSION DEADLINE has been extended to Wednesday, December 1, 2021 at 11:59pm 
We will make our decisions by early March 2022
** We consider DC-Area playwrights writers that live in: Montgomery County and Prince George's County in Maryland; the District of Columbia; City of Alexandria, Arlington County, City of Falls Church, Fairfax County and Loudoun County in Virginia.
*** If you are not DC-Area based and feel you have a script that fits our criteria, you may email info@rorschachtheatre.com with "MIRS Invitation Request" in the subject line along with a 10-page script sample and one paragraph summary of your play. If we are able to accommodate additional submissions we'll contact you with an invitation link.