1001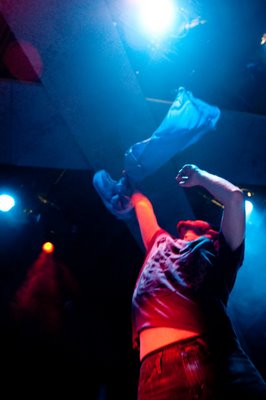 1001
By Jason Grote
Directed by Randy Baker
May 28-July3, 2009
"Good storytelling is a sort of fearless magic act, in which events move too quickly to tolerate objection. And this is the way that director Randy Baker and the rest of the Rorschach troupe tell this story: with such assurance and commitment that the impossible seems true."
–DC Theatre Scene
Jason Grote returns to Rorschach Theatre with 1001, in which the classic tale of Scheherazade and her 1001 tales makes its way from ancient Arabia to modern day Manhattan. 1001 weaves myth, magical realism and comedy into an amazing tale as Scheherazade, the storyteller from The Arabian Nights morphs into Dahna, a contemporary Palestinian graduate student in New York. Her awkward love story with Alan, a young Jewish man, reverberates through history, as the play twists and turns though a labyrinth of story upon story. But at its heart is the blood, tears and brutal truth of a young relationship – as complex as a labyrinth and as important as the fate of the world.
For more photos, videos and reviews CLICK HERE
PRODUCED BY Jenny McConnell Frederick and Randy Baker

FEATURING Company Member Yasmin Tuazon with Rex Daugherty, Lee Liebeskind, Dylan Myers, Jay Saunders and Abby Wood
DESIGNED BY Company Member David C. Ghatan (Set Designer) with Ivania Stack (Costume Designer), Brian S. Allard (Lighting Designer), Matthew M. Nielson and Wade Tandy(Sound Designers) and Andrea "Dre" Moore (Props Designer)
STAGE MANAGED BY Julia Harman Cain and Heather Gaither-Greek (Stage Managers) and Hannah Blechman (Asst. Stage Manager)
WITH Casey Kaleba (Fight Choreographer), Michael J. Bobbitt (Dance Choreographer), Hunter Styles (Assistant Director), Dan Iwaniec (Assistant Costume Designer), Meaghan Toohey (Scenic Painter), Justin Keenan Miller (Technical Director) and Robert Brown (Master Electrician)
SEASON 9 is sponsored in part by generous contributions from The Dobranski Foundation and Pete Miller & Sara Cormeny.
Performed in the DEVINE THEATRE at Georgetown University's Royden B. Davis, S.J. Performing Arts Center