A Bright Room Called Day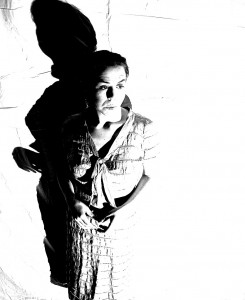 A Bright Room Called Day
By Tony Kushner
Directed By Rahaleh Nassri
April 22- May 21, 2006
"Kushner being Kushner — that is, burning with ideological fire, thoroughly grounded in history and theory, and preposterously gifted with literary agility — that wild swing of a thesis gains surprising traction onstage… Rorschach Theatre is the right company to embrace the overstatement, and director Rahaleh Nassri's production is tough-minded and, in its way, beautiful."
–Washington Post
Set in the last days of Germany's Weimar Republic, Kushner's first published play follows a group of artists and activists as they watch their country gradually descend into the Third Reich. By turns both magical and rhetorical, Bright Room charts the ascension of the Nazi Party through the seemingly-insulated life in middle-class living rooms.
For more photos and reviews CLICK HERE
PRODUCED BY Randy Baker and Jenny McConell Frederick
FEATURING Company Members Lindsay Allen, Elizabeth Chomko and Grady Weatherford, with Katie Atkinson, Matt Dunphy, Lauren Krizner, Cam Magee, Alexander Strain and Ellen Young
DESIGNED BY Franklin Labovitz (Costumes), Jacob Muehlhausen (Set), Matt Nielson (Sound), Nathaniel John Sebastian Sinnott (Lights), Becky Trotter (Props), Grady Weatherford (Multimedia)
STAGE MANAGED BY Vivian Woodland and Ryan Taylor(ASM)
WITH Hannah Hessel (Dramaturgy) and Amy Kleist (Technical Director)
A BRIGHT ROOM CALLED DAY was sponsored in part by a generous gift from Unique USA Inc.
Rorschach Theatre's SEASON 6 was sponsored in part by a generous gift from The Dobranski Foundation
Performed in THE SANCTUARY THEATRE at Casa Del Pueblo Calvary Methodist Church
(Rorschach Theatre's home: 2002-2007)