ATQ: Press, Photos and Video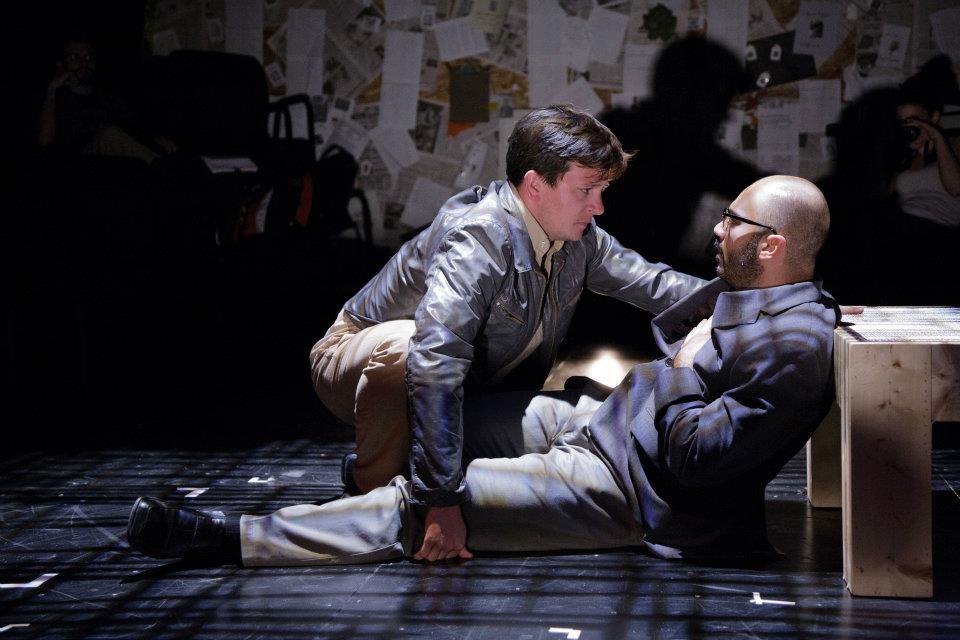 Junpei's magical-realist story—about a shy banker who must aid a giant magical-realist frog in combat against a giant magical-realist worm—provides the evening's play-within-a-play. Galati's script preserves luxurious passages of Murakami's (translated) prose, a sensual pleasure as performed by each member of the company. The design team, meanwhile, has created a visual and aural environment to match the haunted elegance of the words: Newspaper pages and homemade missing-persons flyers paper the theater space's walls, while bits of detritus—plush toys, plastic bottles, 45-RPM records—hang from the ceiling. Ingeniously, when an actor needs a prop, it's usually hanging just overhead.
Dylan Myers displays an expansive physicality as the frog who summons the banker, Katagiri, on his heroic mission. (If you've ever wondered what those thin-soled rubber athletic shoes with individual toes are for, the answer is: amphibian wear.) Maboud Ebrahimzadeh is double-cast as Katagiri and the pal who steals away Junpei's love. You pity his characters differently. The same prop—a black-lace curtain, basically—convincingly evokes the worm the frog must fight and later, a terrifying hallucination of an insect invasion of Katagiri's wounded body. It's strong, stirring stuff—a modern fable with an oblique moral. It enchants us like a dream and kicks like a nightmare.
–Washington City Paper (CLICK HERE for the full article)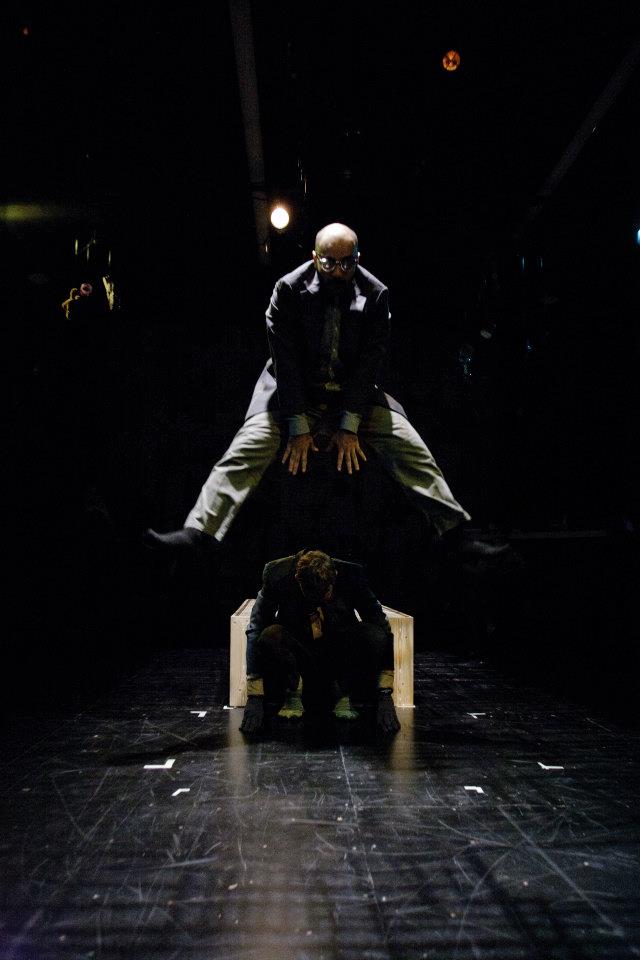 It would be too glib to say this is a story of healing. It is something better: a story about ordinary people living their lives, through difficulties. Director Randy Baker's instincts with Frank Galati's good adaptation are superb; all of his actors give subtle and precise renderings of their characters, full of great knowingness and understanding… In short, this play has been Rorschachisized, which is to say delivered with such speed, punch and precision that it is impossible not to accept the most outlandish developments.
Rorschach has been off the map for some time as a regular producing company. (Baker talks about Rorschach's hiatus, and its history, in this interview.) But if after the quake represents the new normal for Rorschach, I gotta tell you, it's been worth the wait.
–DC Theatre Scene (CLICK HERE for the full review)
People, and things, disappear in Murakami's worlds and his protagonist's physical search for what has been lost mirrors an inward one. Director Randy Baker brings out the humor in Murakami's grim surrealism wonderfully and honestly. At one point, I was certain that Corey was laughing not in character but as himself at the antics of his co-stars before he transitioned into tearful melancholy. Ebrahimzadeh segues thrillingly from machismo to uncertainty. Myers has a solid croak and a practiced leap. Graves is a surprisingly commanding presence given that she has the least amount of stage time. The looks Knight shoots Corey are loaded —with tender ambiguity. Costume Designer Frank Labovitz has had Myers don a pair of outlandish hipster glasses to match Frog's outsized persona. The touch neatly underscores the contrast between the scale of Frog's ambition, to save Tokyo, with his humility (he desperately enlists the help of the most unassuming man in Tokyo in his quest).
–MD Theatre Guide (CLICK HERE for the full review)
Baker's production does well to capture the loneliness at the heart of the parallel plots, thanks in part to tender performances by Daniel J. Corey and Maboud Ebrahimzadeh. Rorschach is exemplary at the edgy-­little-theater business; the material is dark and daring, and the acting is generally sure… The shoestring design is smart, driven by Elisheba Ittoop's understated, moody sound and Stephanie P. Freed's warm, shadowy lights.
–Washington Post (CLICK HERE for the full review)