Behold!
Behold!
By James Hesla
Directed by Randy Baker
May 31 – June 26, 2005
World Premiere
"BEHOLD! is an Everlasting Gobstopper of a play: it goes on and on, with flavor following flavor in a stream of sweetness. It's tinged with magic. Director Randy Baker and the rest of the RORSCHACH crew have created a tightknit, perfectly synchronized carnival of a show."
– Washington City Paper
Anna Tingle's Box of Prophecy is missing. Palamino, a circus sideshow barker and the proprietor of the "Palace of the Pequliar," has just lost it. He's pretty sure he left it at the dry cleaners, but now there is a washed up Sea Captain behind the counter, offering a ticking replacement for the box. It has actually fallen into the hands of an unbalanced dry cleaning attendant who is being pursued by the singularly obsessed Angosta Raya, a part-time psychic and a self-proclaimed Woman Of Mystery. Also caught up in this quest is a mid-western couple on vacation, two very drunk hotel bellhops and a waitress who is having the longest night of her life. And then there's the Mexican Bishop…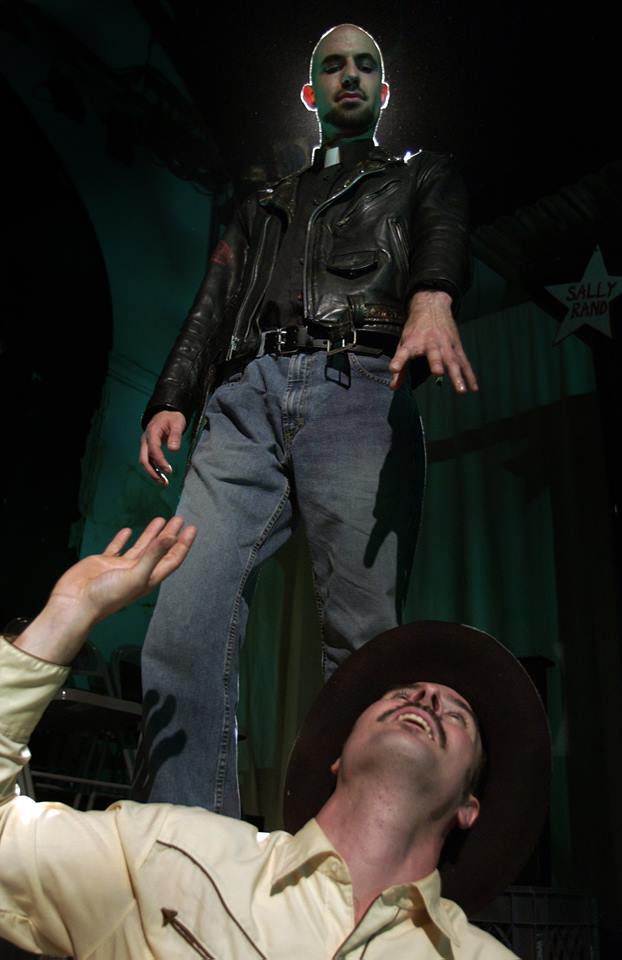 Their journeys take them across the lost highways of America – through tiki bars and forgotten motels, from Boca Raton, Florida to Truth or Consequences, New Mexico, all converging on a magical beach on the Sea of Cortez where the mysteries of Anna Tingle's Box of Prophecy will finally be revealed.
For more photos and reviews CLICK HERE
PRODUCED BY Jenny McConnell Frederick and Randy Baker
FEATURING Cecil Baldwin, Andy Brownstein, Liz Chomko, Tim Getman, Jason Linkins, Hugh T. Owen, Jenny Morris, Kerri Rambow, Shane Wallis and Grady Weatherford.
DESIGNED BY Raquel Davis (Lighting Design), Matthew Frederick (Sound Design), Sara Nelson (Set Design), Yvette Ryan (Costume Design), Debra Kim Sivigny (Props Design)
STAGE MANAGED BY Debbi Arseneaux, Jenny Byrd (Asst SM)
BEHOLD! was sponsored in part by Pete Miller & Sara Cormeny
Performed in THE SANCTUARY THEATRE at Casa Del Pueblo Calvary Methodist Church
(Rorschach Theatre's home: 2002-2007)