FIGHT CAMP IS BACK!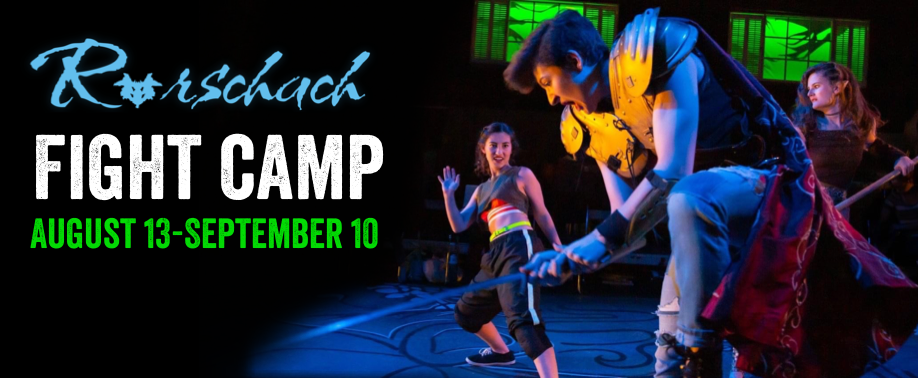 All classes are at The Atlas Performing Arts Center,
1333 H Street NE, Washington DC 20002
Co-Sponsored by Theatre Lab School of the Dramatic Arts
Classes led by company member Casey Kaleba,
Rorschach Theatre's resident fight choreographer
$250 for all FIVE sessions / $60 per class for single "drop-in" rate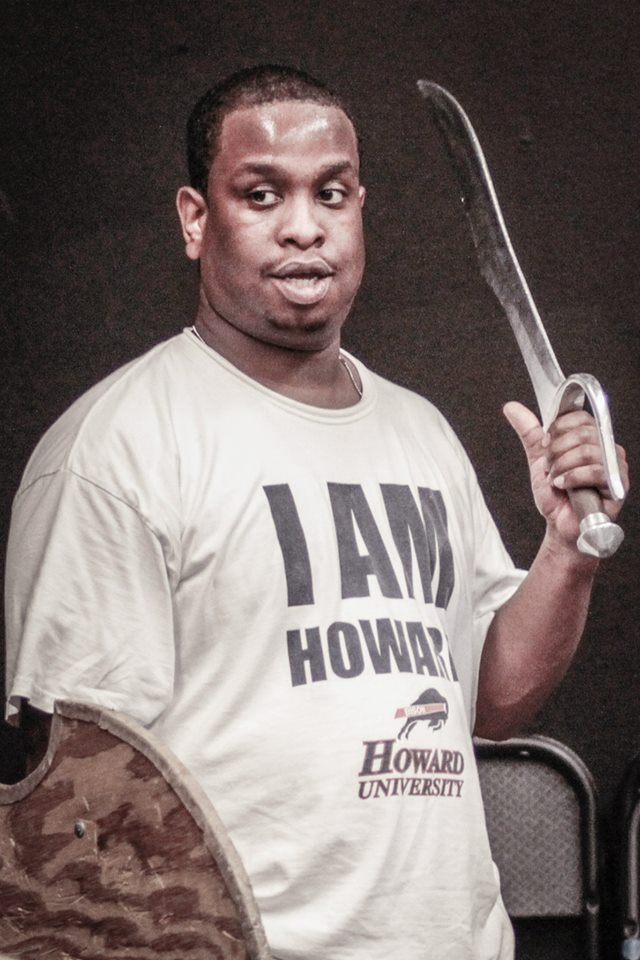 After a three year hiatus… FIGHT CAMP IS BACK!
Sharpen those swords and spend some time learning stage combat in a way only Rorschach Theatre can deliver. Taught by Rorschach Theatre company member and resident ninja* Casey Kaleba, these classes are rooted in traditional stage combat technique but draw from a wide range of approaches and styles. The classes can be taken as a whole training program or as a series of drop-in classes. For performers and students with no experience, these classes will offer an excellent introduction to stage combat theory and practice. For those already familiar, it's a chance to refresh skills and pick up some new tricks.
Summer Fight camp is for adults. If you are under 18 and would like to be considered, please contact classes@rorschachtheatre.com.  Masks and proof of Covid-19 vaccination required.
* We have no confirmation that Casey is a ninja
For questions, please email classes@rorschachtheatre.com.
SESSION 1: "Atomic Blondes Have More Fun" 
Saturday August 13, 10:15am-1pm
All the basics of stage fighting without weapons: body, audience, partnering and flow. We'll cover a range of common techniques in the contemporary brawl style with focus on selling the technique effectively and expressing character through violence. Then we'll try to apply those techniques while moving through spaces.
SESSION 2: "Dracula vs. Carmilla"
Saturday August 20, 10:15am-1pm
Sometimes you just need to stab someone. This class covers stylistic use of the knife on stage. Building on the basic movement form we'll adapt it for use with a variety of small edged weapons, with an emphasis on blade technique, dynamic action, and martial physicality.
SESSION 3: "Return of the Dream Sailors"
Saturday August 27, 10:15am-1pm
A look at light and fast swordplay in a swashbuckling style, suitable for musketeers, pirate queens, and six-fingered Counts. We'll explore lighter and faster blades with an emphasis on flow, safe speed, and style.
SESSION 4: "The Riddle of Steel"
Saturday September 3, 10:15am-1pm
GUEST INSTRUCTOR: Jonathan Ezra Rubin
An introduction to the fantasy sword style that's become a Rorschach hallmark. A solid look at technical, exciting, and safe fights for stage with an emphasis on storytelling, safety, and tying movement to character in an imagined world.
SESSION 5: "My Name is Gladiator"
Saturday September 10, 10:15am-1pm
From the Toxic Avenger to Neverwhere's Hunter – this class will look at how mixed weapon combinations give us more dynamic stage fights. We'll cover ambidextrous fighting, changing distance and range quickly, and a surprising number of ways to smash people.
---
SAFETY PRECAUTIONS
We are requiring proof of vaccination status and that students remain masked while indoors. Rorschach will follow any additional CDC and local guidelines and requirements at the time of the classes. All Rorschach Theatre staff and artists are vaccinated.
---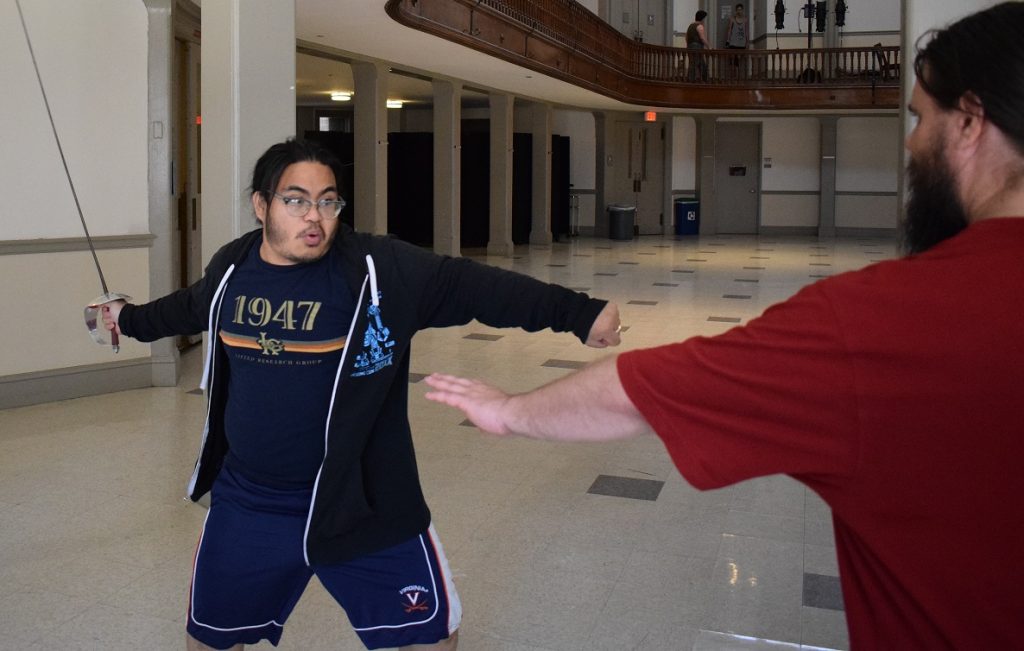 ---
ABOUT THE INSTRUCTOR: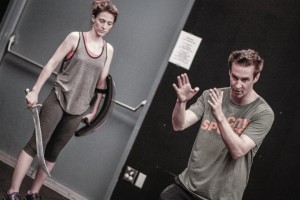 CASEY KALEBA (Instructor and Curriculum Design) has arranged violence more than four hundred stage productions, including work at the Guthrie Theatre and Spoleto Festival. He has been with Rorschach since Fair Ladies at a Game of Poem Cards, and since then has staged fights with pirates, zombies, blindfolds, samurai, minotaurs, monkeys, and dragons. DC area credits include Folger Theatre, Round House Theatre, Signature Theatre, Olney Theatre Center, Forum Theatre, Theatre J, Studio Theatre and Constellation Theatre Company. Casey works as an audition choreographer for Marvel Universe Live and smashes bottles on the Youtube show Men At Arms: Reforged. He trained with physical artists from across the globe, is a certified instructor with the Society of American Fight Directors and has served as a guest artist in Sweden and Canada.
JONATHAN EZRA RUBIN (Guest instructor on September 3) is a Certified Teacher with the SAFD and freelances as a Fight & Intimacy Director throughout the Washington, DC-Metro Area. A three-time Helen Hayes Award Nominee for Outstanding Choreography and WATCH Award Nominee for Fight Choreography, Jonathan has choreographed fights and/or intimacy at Flying V Theatre, The Studio Theatre, Signature Theatre, Mosaic Theater Company, GALA Hispanic Theatre, Adventure Theatre-MTC, Cohesion Theatre Company, 4615 Theatre Company, LiveArtDC, Georgetown Gilbert & Sullivan Society, Silver Spring Stage, Maryland Shakespeare Company, Lumina Studio Theatre, Georgetown University, American University, Goucher College, and more.