FORGOTTEN KINGDOMS Press and Photos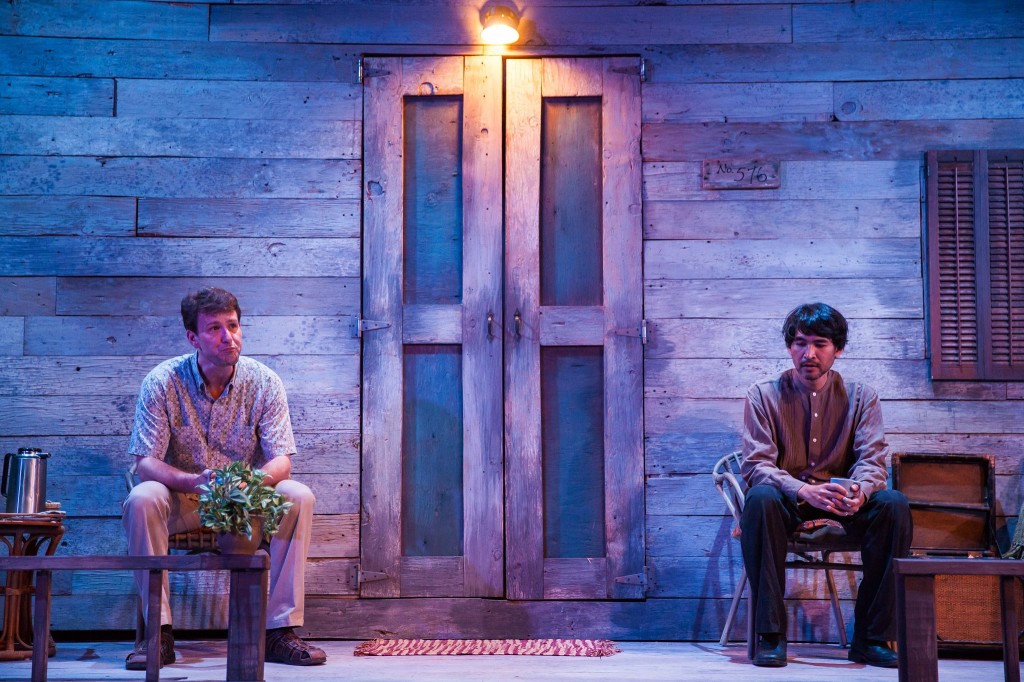 There are mysteries of belief and faith beneath this fascinating parable of a play, roiling like the seawater that churns below the wooden house where its action takes place. This house is built on stilts on the coast of a small island in Indonesia. The sounds of water lapping and surf breaking and the liquid reflections of light upon its moving surface never cease.
Part cross-cultural collision, part family melodrama, part theological thriller, part audacious myth-making, Rorschach Theatre's Forgotten Kingdoms contains such rich content it's like riding a rip tide.
Playwright Randy Baker grew up in Singapore, grandson of a missionary, and he has set this play at the home of an American missionary based loosely on his grandfather and the stories Baker remembers he told. But beyond that biographical mooring and Baker's lived familiarity with the locale, Forgotten Kingdoms is an act of fictive imagination that immerses its audience's attention like a Williams or O'Neill.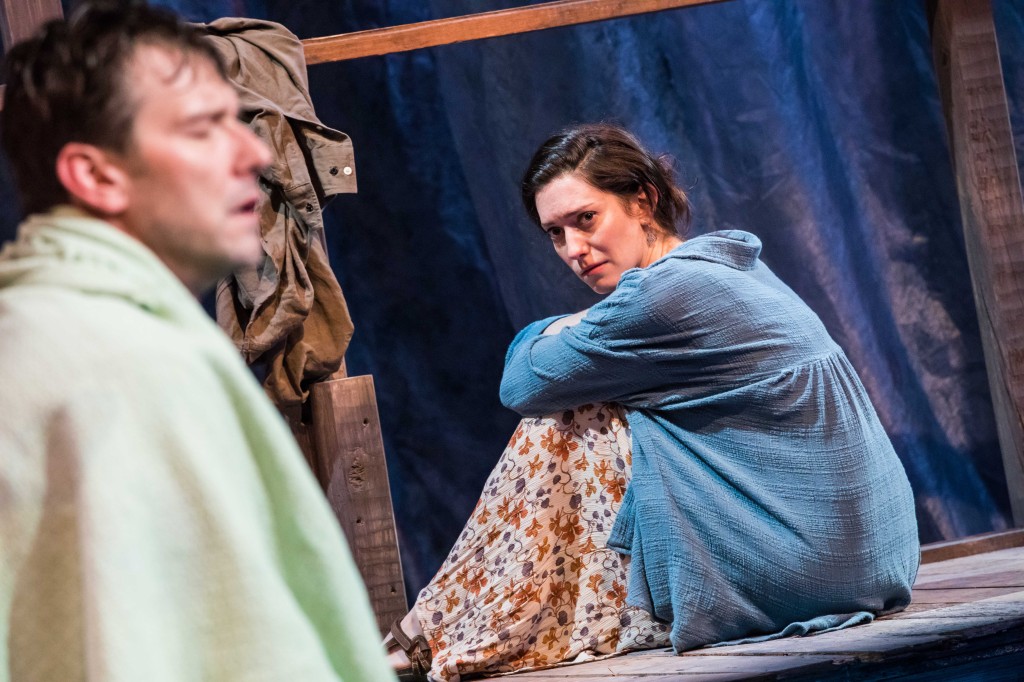 Director Cara Gabriel conducts the panoramic scope of this play with orchestral dimension. The set by Debra Kim Sivigny, who also did costumes, is alone worth the trip to H Street to see this show. (The aroma of fresh-sawed lumber lingers in the air, testament to the hand-wrought stagecraft on display.) Lighting Designer Tyler Dubuc makes this ever-flowing world beside the sea seem real. And Sound Designer Justin Schmitz, whose eloquent water effects underscore all, composes an opener for each act with the sort of stirring music that typically begins big movies.
I cannot say for certain what Forgotten Kingdoms is "about." But I sensed at every turn there is an ocean of meaning within it—like an ebb and flow of stories and emotions that touch on faith and belief yet never explain it, never contain it. And just how deep is that ocean can be known only by diving in.
–DC Metro Theatre Arts (CLICK HERE for full review)
A small boy sits alone at the edge of a wooden jetty, dropping marbles into the sea. He is counting the splashing sounds the marbles make as they plummet into the waves. We can count them, too: The collision between toy and water makes a crisp, satisfying noise amid the broader susurration of the ocean.
Arriving in the first minute or two of "Forgotten Kingdoms," this sequence exemplifies the vividness of this distinctive play by Randy Baker, receiving its world premiere from Rorschach Theatre. A tale of a troubled American missionary family and their circle of acquaintances on an isolated Indonesian island, "Forgotten Kingdoms" touches on such themes as culture clash, the legacy of colonialism and competition among religions, but it is far from an issue play. Bold and often poignant, the work extends an appealingly personal and idiosyncratic vision, rich in telling detail. The title may reference forgetting, but the play often seems as clear and specific as a total-recall memory.
– Washington Post (CLICK HERE for full review)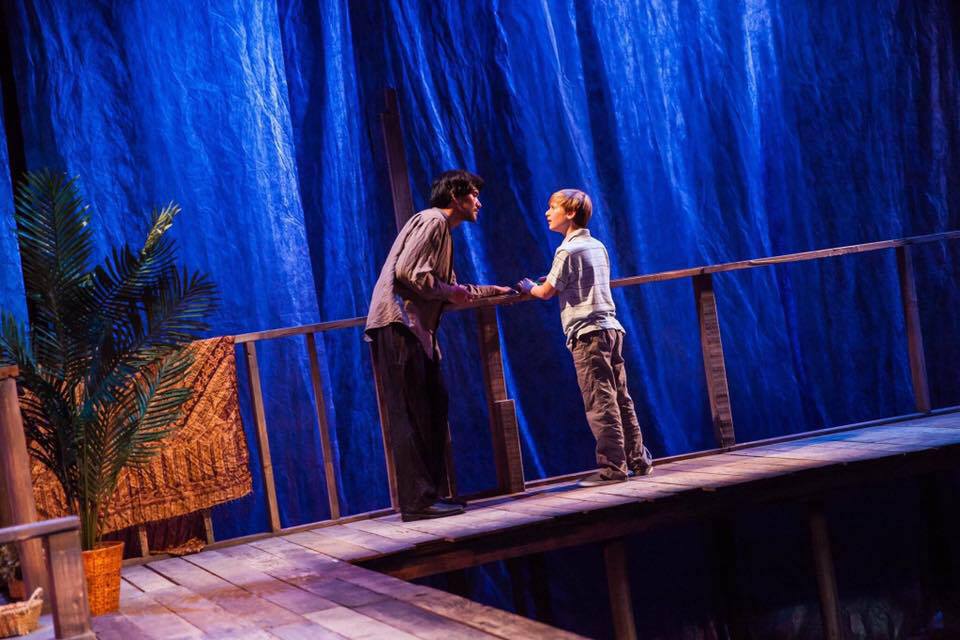 "[E]ngaging and infused with humor …. a satisfying and thought-provoking work of theater."
– Brightest Young Things (CLICK HERE for full review)
"[Randy] Baker's own experience adds the kind of precise detail that makes the story, as fantastic as it becomes, rooted in truth …. a step or two from a great American play. Which is exciting to see on H Street."
– BroadwayWorld (CLICK HERE for full review)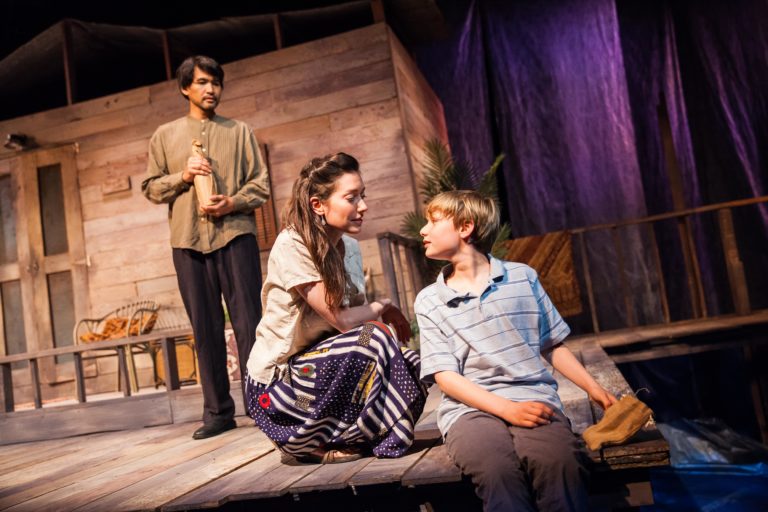 "Deb Sivigny's gorgeous set design [is] almost worth the price of admission itself …. a zoomed-in, deeply human story influenced by magical elements"
– DCist​ (CLICK HERE for full review)
"Though the events that unfold take place in 1983, the themes being addressed on stage—faith, truth, cultural exchange, forgiveness, the omnipresence of the past—are just as relevant in 2017 …. #ForgottenKingdoms is an ambitious and thought-provoking bit of world-building that is sure to spark a bevy of conversations among those lucky enough to see it."
– DC Theatre Scene (CLICK HERE for full review)
"How Rizal Iwan from Indonesia ended up on H Street making his US debut in Forgotten Kingdoms at Rorschach" (DC Theatre Scene)
Conversations with Five Makers of 'Forgotten Kingdoms' at Rorschach Theatre (DC Metro Theatre Arts)
BWW Preview: A Staged Reading of Randy Baker's FORGOTTEN KINGDOMS by Jakarta Players Community Theatre (A locally-written BROADWAY WORLD article written about the reading in Jakarta) 
NOW! JAKARTA feature article on actor Rizal Iwan: "Meet Indonesia's Creative Souls"
A REPORT FROM VOICE OF AMERICA INDONESIA ABOUT ACTOR RIZAL IWAN: