Special Halloween show 10.31! | Now playing until November 6
by Kate Hamill
from the novel by Bram Stoker
Directed by Rebecca Rovezzi
The Firehouse at the Parks at Walter Reed
October 14, 2022 – November 6, 2022
Pay-What-You-Can Previews October 14-16
"When the ruling class write history, the words of the common people, of women – become Superstition" 
Kate Hamill boldly reimagines Bram Stoker's classic tale of vampires and finds new monsters just beneath the skin. The gothic tropes of villains who wear evil on their sleeve and damsels in distress are replaced by all-too-human monsters and ferocious women who stab at the heart of the patriarchy itself. A site-specific production, DRACULA will perform in the appropriately haunted disused fire house at The Parks at Historic Walter Reed.
"Trust Rorschach Theatre to immerse us in an unreal world. Inevitably they go all in; it is their fantastical forte. And this time, with Kate Hammill's feminist adaptation of DRACULA in hand, Rorschach has conjured a wondrous world that becomes before our eyes a window into the real one." — DC Theatre Arts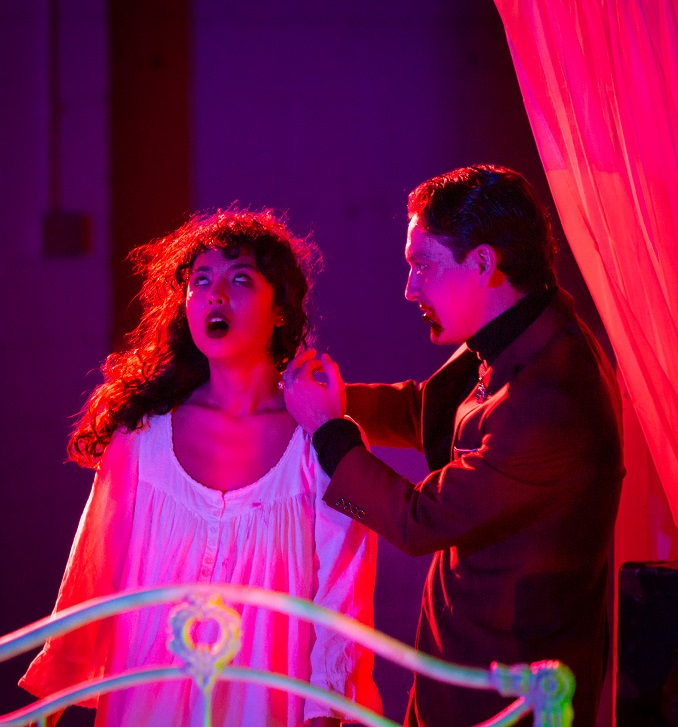 "An experience that's literally chilling and thrilling…" — Washington City Paper
"A thoroughly entertaining piece of theater… Rorschach Theatre's DRACULA is just the thing to stir your blood" — DCist
"Rorschach's DRACULA delivers the feminist revenge fantasy it promises with a witty, relentless, and bloody satisfying attack on the patriarchy… For years, the Rorschach Theatre Company has been providing some of the most imaginative and enlightening theatre around, and this production is no exception. Go see DRACULA before it vanishes into the night forever." — MD Theatre Guide
**Masks required to be worn by audience members**
KNOW BEFORE YOU GO:
The Fire House is located in the Parks at Historic Walter Reed
in "Building 90" across the street from the Arts Park
at 6810 Cameron Drive NW
There are directions on our website HERE 
There is a large underground parking lot in the building next to the firehouse run by colonial parking. It is $8 to park in this lot. There are also a handful of small surface lots on The Parks campus as well as street parking along the roads within The Parks and in the adjacent neighborhoods.  
The show runs around two hours and fifteen minutes and has one intermission. The building is a site-specific location that has been transformed into a performance space and the historic structure has limited climate control. Please consider the weather and dress appropriately in layers. Before and during intermission there will be hot drinks available and a fire pit outside. The restrooms are outdoor portable toilets. The performance space is ADA accessible and one of the restrooms is ADA accessible
The show begins at 8pm each night and seating will begin at 7:45. We will have the firepit going outside with hot drinks available starting at 7:15pm. The show runs about two hours and fifteen minutes and will have one intermission.
CONTENT: This production features flashing/strobing lights, stage blood, and simulated violence.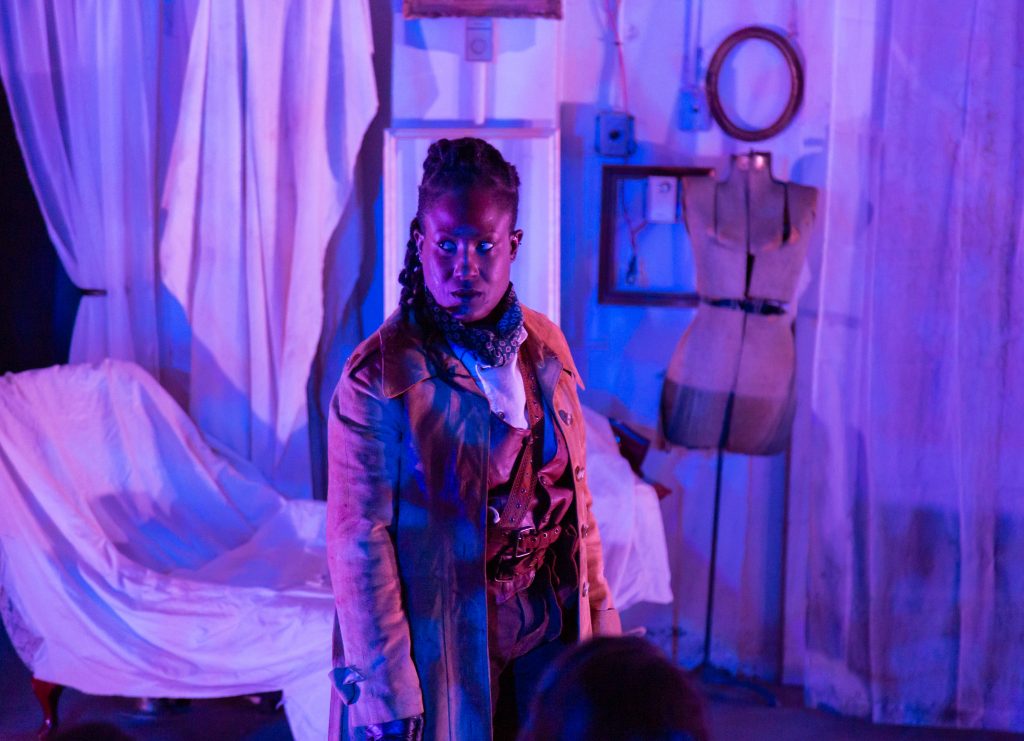 DRACULA: A FEMINIST REVENGE FANTASY REALLY
By Kate Hamill
from the novel by Bram Stoker
Directed by Rebecca Rovezzi
FEATURING Phoenix Cross, Christina Day, Conor Patrick Donahue, Erik Harrison, Bri Houtman, Marissa Liotta, Jessica Ludd, Jolene Mafnas, Ben Topa, Maryanne Henderson (Understudy), Dannielle Hutchinson, (Understudy), Andrew Quilpa (Understudy), Kaeli Patchen (Understudy), Daniel Riker (Understudy).
DESIGNED BY Sarah Markley (Scenic Designer), James Morrison (Lighting Designer), Sydney Moore (Costume Designer), Kenny Neal (Sound Designer), Mercedes Blankenship (Props Design), Ashlynne Ludwig (Assistant Costume Designer), Dean Leong (Assistant Lighting Designer)
WITH Caroline Jeffrey (Stage Manager), Casey Kaleba (Fight Choreographer), Megan Behm (Intimacy Choreographer), Jen Rabbit Ring (Accent Coach), Emily Lathrop (Dramaturg), Michael Kyrioglu (Box Office Manager), Kelsey Jenkins (House Manager), and Adam B. Ferguson (Production Manager).
PRODUCED BY Randy Baker and Jenny McConnell Frederick