MM: Press and Photos
"There should be no way to begin staging Bulgakov's hallucinatory work… But rather than shrink from the challenge of the piece the Rorschach troupe appears to savor it… To see Rorschach Theatre's persistently intriguing staging, an intellectual grab bag of a play…your body may be perspiring, but your mind will be running an irresistible obstacle course without breaking a sweat… A fluid set appears to expand and contract into theatrical niches and unfolding alcoves and at times funnels action into the audience. It's not exactly theater in the round but its theater over, above and among."
–Washington Post (CLICK HERE for the full article)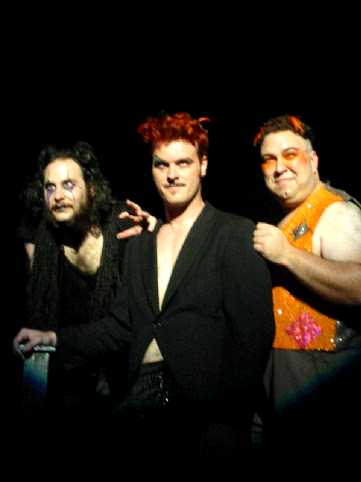 Staged with eerie appropriateness in a high-beamed former sanctuary, this production crackles with manic energy as it emerges from the gutters of Moscow, time-travels to the Crucifixion at Golgotha and concludes with an artistic Resurrection presided over by Satan. The audience is surrounded by ministages and tableaux that pop up without notice and never cease to astonish. And yet, from all the din, confusion, bitter satire and raucous humor, the ghost of the Old Believers seems reassuringly to arise, as blasphemy morphs into a moving and very Russian spiritual transfiguration. This production will have you arguing at a coffeehouse or bar well past closing time.
The acting of the Rorschach ensemble is superb. Rapid costume changes, multiple characters per actor, insane hijinks and occasional moments of Grand Guignol (watch out for the tongue-ectomy and the head) — this is the kind of stuff that actors love to sink their teeth into, and in this production, they literally do.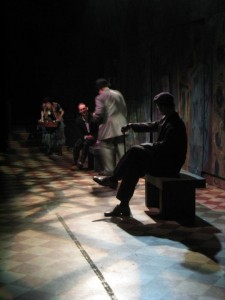 Tim Getman, as Woland/Satan, is a fantastic Master of Ceremonies, evolving from a dapper tourist into a garish blend of Joel Grey and Tim Curry at their worst.
Lindsay Allen as Margarita, Scott Graham as the Master and Grady Weatherford as Behemeth the Cat also do their best to keep the madcap action in play. But perhaps the biggest star of the show is director Jenny McConnell, who keeps this 21/2-hour circus of mayhem coherent, entertaining and thought-provoking. Surely there's a Helen Hayes nomination here somewhere for what might be one of 2003's most astounding theatrical adventures.
— Washington Times (CLICK HERE for the full article)
Speaking of discoveries, I've somehow missed the Rorschach Theatre's earlier productions, but after catching the company's ambitious mounting of Master and Margarita, I'll make it a point not to let future shows slip past me. Working from an adaptation by Jean-Claude van Itallie of Mikhail Bulgakov's modernist classic about a besieged Soviet author and the lover who makes a pact with the devil to free him from state oppression, Rorschach has created a smart, quasi-Brechtian evening, filled with music-hall flourishes and considerable theatrical ingenuity.
— Washington City Paper (CLICK HERE for the full article)