She Kills Monsters 2e: Content Information
In the same way that everyone sees something different in an inkblot, people want different things from their theatre-going experiences. If you're someone who likes to have a lot of background on what the experience will be like before you come to the theatre, read on. This page focuses on CONTENT INFORMATION. If you would like information about the artists and the process CLICK HERE.
There may be some low-key spoilers ahead.
Return to the main SHE KILLS MONSTERS page for schedule and ticketing information
WHAT HAPPENS?
THEMES: Dungeons & Dragons, high school, bullying, loss of family members, small town life, LGBTQ+, role playing, grief, moving on
Set in the mid-1990's, SHE KILLS MONSTERS takes viewers inside the fantasy role-playing world of Dungeons and Dragons. High schooler Tilly Evan, an avid D&D player, recently died in a car crash.  Her older sister, Agnes, now a teacher at their high school, discovers Tilly's D&D notebook. In an attempt to connect with her lost sister, Agnes enlists Tilly's D&D friends to take her inside the adventure Tilly created. 
In this high-octane comedy laden with homicidal fairies, nasty ogres, and 90s pop culture, acclaimed playwright Qui Nguyen (VIETGONE, LIVING DEAD IN DENMARK) offers a heart-pounding homage to the geek and warrior within us all.
IS THIS PLAY FUNNY OR SAD OR WEIRD OR WHAT?
Very funny, and occasionally sad in a touching, nostalgic way. 
This play is funny and heartwarming, though it at times deals with difficult issues facing teenagers and adults, it is very much a comedy.  SHE KILLS MONSTERS is fundamentally about owning and celebrating who you are and what or who you love.
IS THIS PLAY GOING TO BE APPROPRIATE FOR MY MOM/KID/PASTOR/CO-WORKER/1ST DATE?
"Appropriate" is a relative word, but in this case, the play is very appropriate for most audiences.  Here are a few things to know when deciding who to bring to the theatre with you:
We recommend this play for all audiences. While children and adults of any age are welcome, children 10 and older will probably appreciate the content more than their younger counterparts.
Language: The play is set in an American high school in the 1990's, so yes, there's a fair amount of adult language used in a casual way.
Explicit Sexual Content: There are a few low-key references to sex and some making-out that happens on stage, but overall, everyone keeps their pants on.
Violence:  You can't kill the monsters without some violence, so you can expect sword fights, staff fights, hand-to-hand combat, telekinesis-based bullying, and some pretty agressive yearbook ad sales.
Note the "themes" listed above in the "What Happens?" section for more details
SHE KILLS MONSTERS is being produced by numerous High Schools across the country but it is important to note that they are performing a different version of this play. The "YOUNG ADVENTURERS EDITION: removes the adult language and references to sex. If you have any questions about content, please email us at info@rorschachtheate.com.
HOW LONG IS IT?
About 2 hours. No intermission, but a brief respite to use the restroom if necessary about 20 minutes after show time.
PLEASE NOTE: The 15-minute immersive experience that begins the show will require audiences to move through multiple non-theatrical spaces. These spaces are ADA accessible and there will be accommodations made for those who need to sit, but please contact info@rorschachtheatre.com if you have any questions.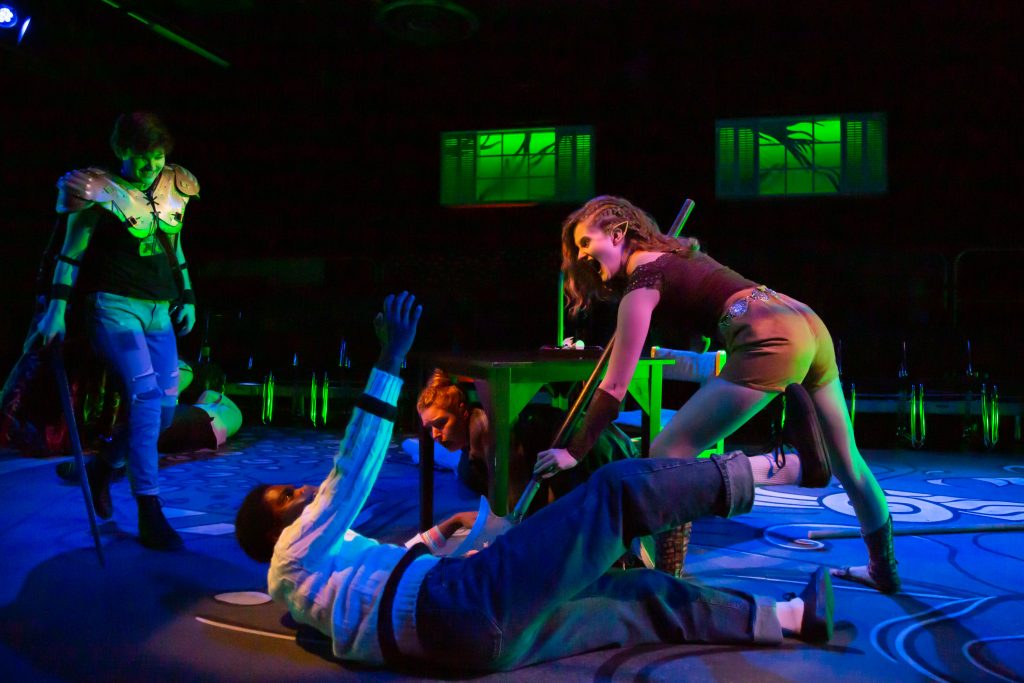 From the 2021 production of SHE KILLS MONSTERS (PHOTO: Ryan Maxwell Photography)