The Electric Baby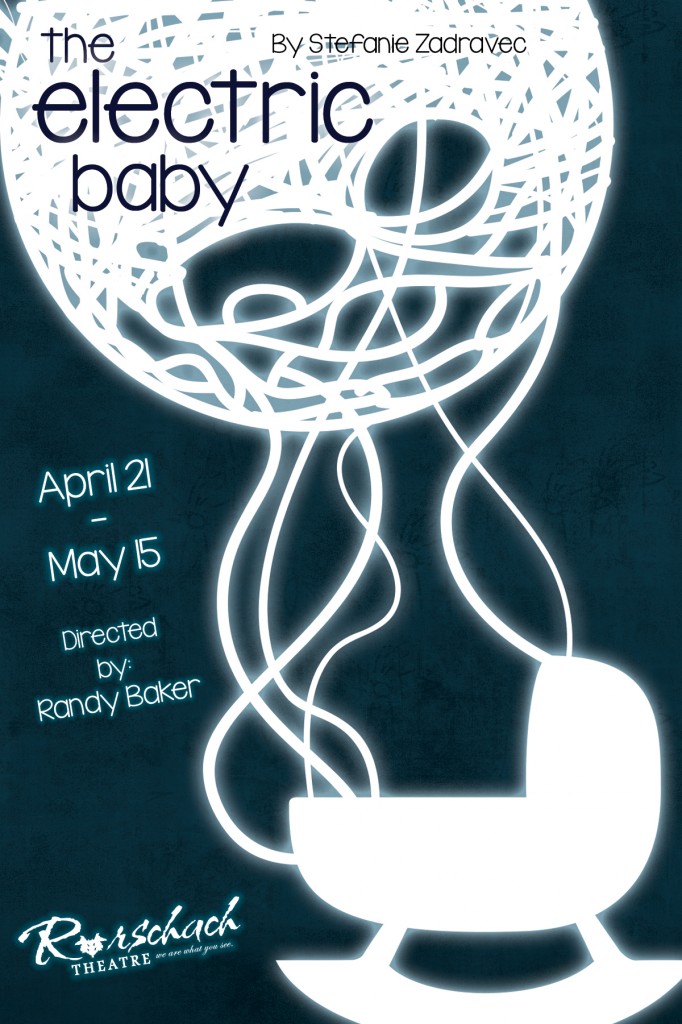 The Electric Baby
April 21 – May 15, 2016
Atlas Center for Performing Arts
"The vivid evocation of heartbreak… The play comes across as a quiet but thought-provoking parable about the human capacity to make connections, and find meaning, in a chaotic world." – Washington Post
"Rorschach Theater's powerful production of Stephanie Zadravec's The Electric Baby examines the power of modern fables, as five strangers bonded by tragedy swing between extremes of stubborn self-delusion and painful acceptance."
– DC Theatre Scene
"As we enter the theater, the baby's mother is sitting knitting in a wicker chair beside a white bassinet, and she is singing a lullaby or maybe keening. We do not know yet whether this child will survive. We cannot foresee how much loss will be borne nor how much hope will be born as the subsequent story circles elliptically through the lives of random strangers. But we are drawn from the beginning into a drama that does not let us go even after it is done." — DC Metro Theatre Arts
MORE ARTICLES ABOUT THE ELECTRIC BABY:
"Shine on You Crazy, Glowing Child"
– DCist
"A glowing baby is just the Beginning"
– DC THEATRE SCENE 
"Reality Just Isn't Enough"
– THEATRE WASHINGTON
(about The Electric Baby and the Helen Hayes Nominations for last year's Very Still and Hard to See)
FOR AUDIENCE REACTION AND REVIEWS CLICK HERE!
When Helen causes a car accident that kills a young man, a group of fractured souls cross paths and connect around a mysterious baby who glows like the moon. Folk tales and folklore weave throughout this magical story of sad endings, strange beginnings and the unlikely people that get you from one place to the next.
FEATURING William Aitken, J. Shawn Durham, Jennifer J. Hopkins, Cam Magee, Kiernan McGowan and Sarah Taurchini
DESIGNED BY Frank Labovitz (Costumes), Katie McCreary (Lighting), Thomas Sowers (Sound) and Betsy Zuck (Set)
WITH Linz Moore (Stage Manager), Paul Lysek (Assistant Director), Sophie Barden (Assistant Stage Manager), Nate Collard (Assistant Lighting Designer), Lee Liebeskind and Debra Kim Sivigny (Casting and Production Management)