KLECKSOGRAPHY: Haunting Monsters

Saturday, October 25, 2014 
with two showings: 7pm and 9pm
Performing at Atlas Performing Arts Center
1333 H Street NE, Washington DC 20002
CLICK HERE TO GET YOUR TICKETS! 
Deep in the woods six monsters huddle by a fire:
Frankenstein's Monster, Wolfman, Dracula, The Mummy, The Creature of the Black Lagoon and The Invisible Man.
They are telling ghost stories and sharing their nightmares.
They are eating s'mores.
Created by over two dozen theatre artists, KLECKSOGRAPHY: HAUNTING MONSTERS will feature six short plays from six different perspectives – all written and staged in one week. Join the city's most daring theatre company and see what happens when it reveals the monsters' monsters.
PRODUCED BY Lee Liebeskind, Jenny McConnell Frederick and Randy Baker
WRITTEN BY Thembi Duncan, Zachary Fernebok, Ann Fraistat, Shawn Fraistat, Nicole Jost, Robert Montenegro, Natalie Piegari
FEATURING Bru Ajueyitsi, Kathleen Burnard, Grant Cloyd, Louis E. Davis, James Finley, Peter Finnegan, Nick Hagy, Dexter Hamlett, Karen Lange, Anna Lathrop, Jill Nienhiser, Robert Pike, Megan Reichelt, Colin Smith, John Tweel, Jjana Valentiner, Christopher Williams
DIRECTED BY Kate Debelack, Jacob Janssen, Kelsey Mesa, Matt Reckeweg, Michael Russotto, Jason Schlafstein
WITH Toni Goldberg (Set Design), Navid Azeez (Lighting Design), Laura Schlachtmeyer (Stage Manager)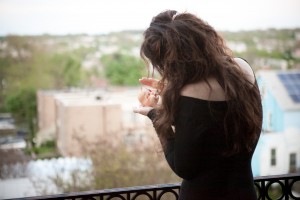 Klecksography was a game that Hermann Rorschach played as a child in which children would make shapes out of ink on a blank page.  Inspired by this game he would go on to develop his famous psychological test, the Rorschach Inkblot Test.
Rorschach Theatre's Klecksography Projects play a similar game with New Play Development – stories are built by artists responding to a similar theme or a common source and then presented to an audience as an evening of theatre.  The evenings are always created in a furiously short time and involve a veritable army of playwrights, directors, actors and designers.
Examples of themes from past events include forgotten Washington stories, Grimm's Fairy Tales, Urban Legends and actual Holiday Stories from the Rorschach fan page.  Below are links to all the Klecksography projects, including our "Myth-Appropriation" events which followed a similar formula but were based exclusively on mythology.