PG23.24 FAQ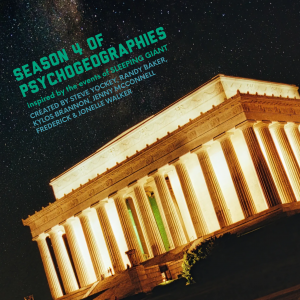 Psychogeographies projects harness the power of both the built and natural world to create a visceral piece of immersive storytelling. Each month participants receive a map and instructions to travel to a new curated location in the DC area. Along with the map, they'll receive a box of artifacts to engage all five senses while exploring each site with story elements such as letters, music, souvenirs, or photos.
From October through May, each monthly box reveals a new location and a new chapter in the ongoing story. This psychogeographic adventure will be co-written by Steve Yockey (HBO's The Flight Attendant and this season's SLEEPING GIANT) 
---
I prefer not to leave my home at this time. Can I still participate?
Yes! Each chapter will provide alternative instructions for experiencing the contents in your own home including a video that walks through the location. 
The "at home" version of each chapter can also serve as a way to experience each chapter if you live in another city or as a recap of your adventure after you have already experienced it.
Do I need to purchase a separate box for each member of my household?
It really depends on how you want to engage with the experience. Items in the box may be best used by one person at a time, so you may have to take turns with them, or in some cases there may be consumables. Each PSYCHOGEOGRAPHIES subscription includes one seat for SLEEPING GIANT, the performance in summer of 2024. If you wish to share your subscription with someone, read the next FAQ.
How Can I Share a Psychogeographies Subscription with someone else?
If you both want to see ALL the Rorschach Theatre shows for the 22/23 season (including NIGHT OF THE LIVING DEAD and HUMAN MUSEUM), you can purchase one "SEE IT ALL" subscription and one "ON STAGE" subscription on our subscription page. Both subscribers can see all the live productions (including SLEEPING GIANT, the summer Psychogeographies culmination) and you'll receive one set of Psychogeographies 23/24 boxes to share.
OR
To experience the PSYCHOGEOGRAPHIES 23/24 experience only, purchase one "PSYCHOGEOGRAPHIES" Subscription and additional single tickets to SLEEPING GIANT when it goes on sale.
When will the chapters be sent? What's my deadline to sign up?
New chapters will ship the last week of each month between October and May.  You may sign up at any time and typically back orders are mailed weekly.  If you sign up anytime after the project has begun, you'll receive all previous chapters in your first shipment.  
Is this okay for kids?
In most cases yes. It generally falls in the PG-13 range.  Whether or not kids are invested in the story itself will, of course, depend on the child and their age, but we've found most young participants really enjoy exploring new locations throughout their city. 
How far will I have to travel to reach each month's location?
Most locations are within DC, though we anticipate having one Maryland and one Virginia location this season.
Do I need a car to participate in this?
All seven locations, as well as the final performance location, have some degree of public transportation accessibility. (Though we understand not everyone may wish to use public transportation at this time.) If you are unable or prefer not to travel to any chapter destination, we provide alternative at-home instructions.
When are these events happening?
Whenever you want! Certain locations have specific open/closed hours to be aware of, but generally you can launch your own experience whenever it's convenient for you.
How are you ensuring the safety of participants?
Most locations tend to be less trafficked. We also ask that participants wear masks when required by the city or private businesses and remain distanced from anyone else they encounter on their adventure. Generally experiences will be primarily outdoors. We also look to participants to exercise their own excellent judgement–look both ways when crossing streets, don't hassle pigeons, wear your seatbelt, and make good choices.
How long does each experience take?
While your travel time will vary based on your starting location and mode of transportation, we anticipate each experience being 15-40 minutes of content. Additionally, each expedition will come with further suggestions of optional ways to enhance your trip.
Do I have to experience the first seven chapters to see SLEEPING GIANT?
Nope! Anyone should be able to enjoy the final performance.
Can I participate after the summer show has passed?
Absolutely! If you subscribe after the live show has already passed (summer 2023), you will be sent a link to the video we made of the live performance.  
Have a question that's not answered here?
Write to us at info@rorschachtheatre.com and we'll get back to you ASAP.