Reykjavik
By Steve Yockey
Directed by Rick Hammerly
February 8, 2019 – March 3, 2019
SILVER SPRING BLACK BOX
8641 Colesville Road, Silver Spring, MD 20910
"You are desire and beauty
and you will never fade away."
James is in Reykjavík for the Northern Lights, but they're not here. Instead he ventures into the 24-hour dark of the Icelandic winter and finds himself entangled with dangerous strangers, suspicious lovers, malevolent birds and the mysterious Huldufólk. Playwright Steve Yockey (very still & hard to see), a genre-bending master of suspense, takes us to the end of the Earth to experience a dark, sometimes supernatural world populated with characters who defy expectations at every turn.
Reykjavík may not be appropriate for children under 18. Parental discretion is advised.
CLICK HERE FOR CONTENT INFORMATION
"A stunningly original world of mystery, sensuality, passion, and menace… Rorschach Theatre's production of Reykjavík transcends reality in order to reveal it.  — DC Metro Theatre Arts
"…a haunting and disorienting ride you won't want to miss." – Broadway World

Reykjavík is being produced as a NATIONAL NEW PLAY NETWORK ROLLING WORLD PREMIERE by Actor's Express (Atlanta, GA), Kitchen Dog Theater (Dallas, TX), Southern Rep Theatre (New Orleans, LA), and Rorschach Theatre (Washington, D.C.). Reykjavík was developed at the NNPN/KCACTF MFA Playwrights' Workshop.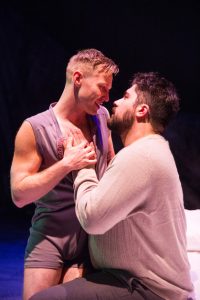 FEATURING Josh Adams, Dylan Arredondo, Jenna Rossman, Carlos Saldaña, Dina Soltan and Robert Bowen Smith.
DESIGNED BY Eric Grims (Set), Katie McCreary* (Lighting), Sydney Moore (Costumes),  Thomas Sowers (Sound), Willow Watson (Props), and Kylos Brannon (Video)
WITH Gordon Nimmo-Smith * (Production Manager), Katie Moshier (Stage Manager), Abby Wasserman (Assistant Stage Manager), Greg Condon (Technical Director), Linz Moore * (Asst. Lighting Designer), Elliot Shugoll (Master Electrician), Casey Kaleba* (Fight Choreographer), Emily Sucher (Intimacy Choreographer), and Jonelle Walker * (Associate Producer)
PRODUCED BY Randy Baker, Jenny McConnell Frederick
* Rorschach Theatre Resident Company Member
Want to know more?
(Click here more detailed plot summary, content information, age recommendations, etc…and possibly some low-key spoilers ahead.)
(Click here for Photos, Press and Insights including the playwright's bio, interviews and other more in-depth explorations of the show's topics. Also included here are the show-related Other People's Ink events)
(Photos on this Page by C. Stanley Photography)