SING TO ME NOW: Content Information
In the same way that everyone sees something different in an inkblot, people want different things from their theatre-going experiences. If you're someone who likes to have a lot of background on what the experience will be like before you come to the theatre, read on. This page focuses on CONTENT INFORMATION. If you would like information about the artists and the process CLICK HERE.
There may be some low-key spoilers ahead.
Return to the main SING TO ME NOW page for schedule and ticketing information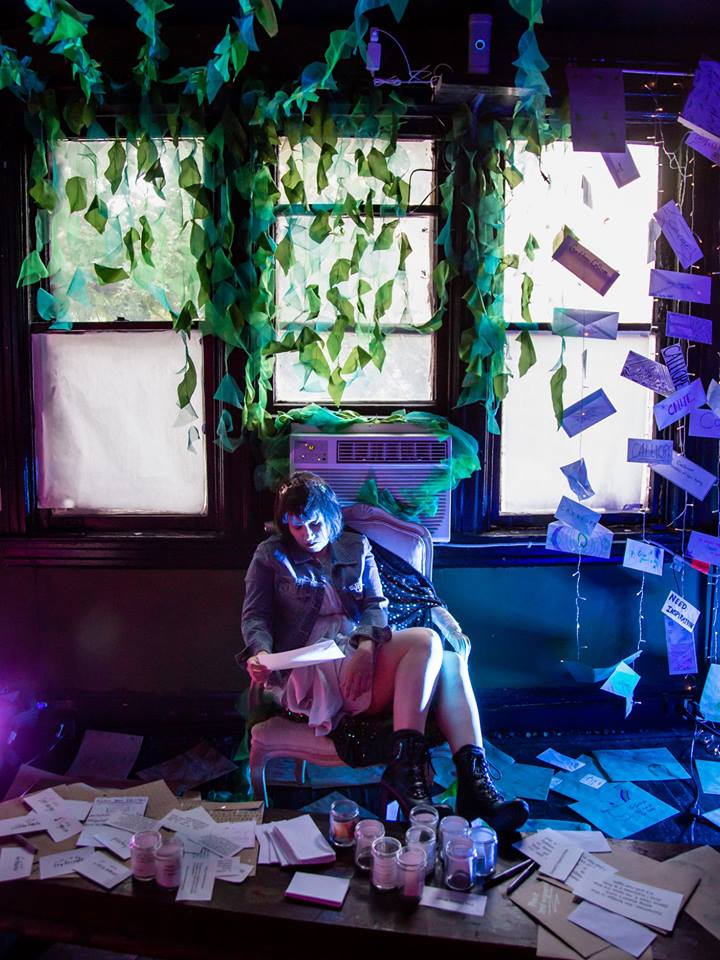 WHAT HAPPENS?
Themes: creativity, inspiration, dreams, memories, Greek mythology, literature, modern art, Dadaism, siblings, love, loss, depression, suicide, dementia and water.
SING TO ME NOW introduces us to Callie (Calliope, the Muse of Epic Poetry).  Once one of nine sisters, she's the only one remaining to answer all of humanities plees for inspiration.  She's so overwhelmed that rather than creating her own art and ideas, she just recycles forgotten dreams and idea the float down the River of Fire.  Desperate for help she consults her best friend Mo (Morpheus, God of Dream), her mom (Mnemosyne, God of Memory) and decides to hire an intern to help.  The human girl, Yankee, who comes to Callie's aid shakes things up and catalyzes Callie to look deeper into the loss of her sisters and what it means for humanity.
IS THIS PLAY FUNNY OR SAD OR WEIRD OR WHAT?
Yes.  
As with a lot of the work Rorschach chooses, SING TO ME NOW explores a range of human (and deity) experiences. This play has some dark themes, but it's primarily a comedy.  Ultimately the play is about why and how we continue to fight for art and beauty when the world seems to be falling apart around us.
IS THIS PLAY GOING TO BE APPROPRIATE FOR MY MOM/KID/PASTOR/CO-WORKER/1ST DATE?
Probably.  But of course "appropriate" is a relative word.  Here are a few things to know:
Language: Greek Gods are passionate creatures.  You'll hear more than a few instances of salty language.  
Explicit Sexual Content: Some comic make-out scenes and one brief, comic reference to masturbation
Violence:  There's no violence depicted on stage.  There are several references to suicide, two of which take place off-stage during the course of the play.
Note the "themes" list above in the "What Happens?" section for more details.
HOW LONG IS IT?
About two hours. There is one intermission.