Sing To Me Now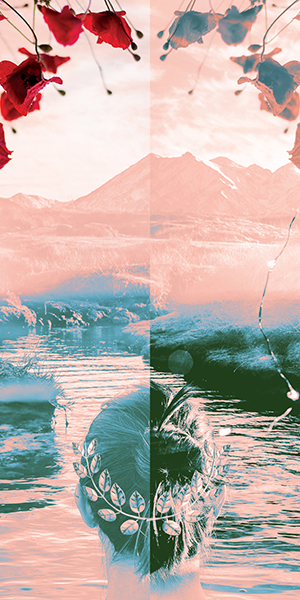 By Iris Dauterman
Directed by Jenny McConnell Frederick
OCTOBER 19, 2018 – NOVEMBER 18, 2018
Atlas Performing Arts Center
"Every second you hesitate, every moment you're not writing, furiously writing, or dancing, or singing, things are getting worse. So hurry. Up."
Calliope is the last surviving Muse. Drowning in the demands of a world desperate for inspiration, she resorts to what any self-respecting Greek Goddess would do: She hires an intern. Soon it becomes clear that Calliope is burying a deeper pain, and the fate of the universe may lie in this human intern's unlikely ability to save her. Playwright Iris Dauterman weaves sardonic humor, poetry, and a deeply contemporary voice to create a comedy about fighting for beauty while the world is falling apart.
"Sing To Me Now reaches into your guts and invisibly rearranges things with a gentle hand. You leave the performance feeling better connected to humanity, with a few tears sparkling in your eyes."
 —Washington City Paper
"At its heart, 

Sing To Me Now

 grapples with a lot of weighty topics, including what the role of art is in a cruel, chaotic world; whether the human race is even worth fighting for; and how we cope with unimaginable grief. And like the best of art, what it offers is not so much clear answers as the hope we need to keep going, keep fighting, even after we leave the theater." —
DC Theatre Scene
FEATURING Ian Armstrong, Tori Boutin, Desiree Chappelle, Erik Harrison, Cam Magee, Chloe Mikala and Jonathan Del Palmer.
DESIGNED BY Debra Kim Sivigny (Costumes), Swedian Lie (Set), Rachael Knoblauch (Props), Gordon Nimmo-Smith* (Sound) and Sarah Tundermann (Lighting)
WITH Gordon Nimmo-Smith (Production Manager), Rebecca Talisman (Stage Manager), Matt Wolfe (Technical Director), Elliot Shugoll (Master Electrician), Callie Trawick (Assistant Sound Design), Kelly Rice (Scenic Painter)
PRODUCED BY Randy Baker, Jenny McConnell Frederick and Jonelle Walker
Want to know more?
(Click here more detailed plot summary, content information, age recommendations, etc…and possibly some low-key spoilers ahead.)
(Click here for Photos, Press and Insights including the playwright's bio, interviews and other more in-depth explorations of the show's topics. Also included here are the show-related Other People's Ink events)
"Rorschach Theatre plumbs deep with its rich, dark fantasies and dives headfirst into myth… a fresh, sober story with just a touch of adventure… Dauterman fruitfully mashes up humanity and divinity in this offbeat quest." — Washington Post