THERE'S STILL TIME! Subscribe to a 3-project subscription now!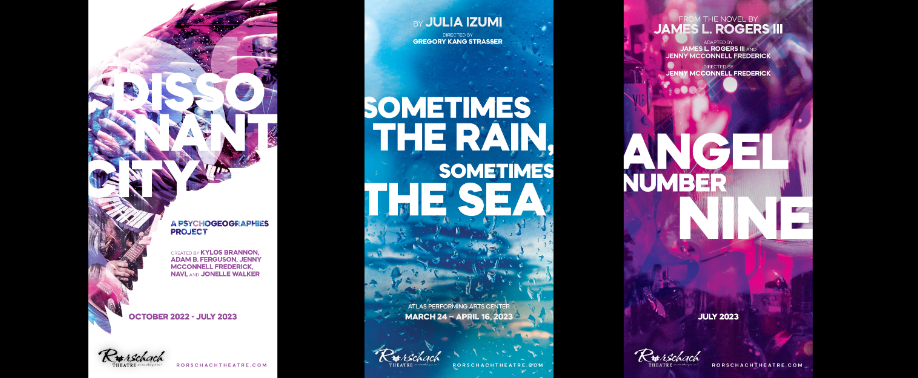 There's still time to subscribe to the rest of our
our bold, site-specific reimagining of DRACULA
may have passed but you can still see rest of the season including
the third year of the groundbreaking PSYCHOGEOGRAPHIES project
and two WORLD PREMIERES
from Julia Izumi and James L. Rogers III

It will also include the annual MAGIC IN ROUGH SPACES NEW PLAY DEVELOPMENT LAB
and the distinctive annual artist development project, KLECKSOGRAPHY
Rorschach Theatre's explosive season immerses audiences in things new and reimagined. For over twenty years the award-winning and nationally recognized company has been known for its bold use of theatrical space and its dedication to impossible fantastical realism.
---
By Julia Izumi
March 24 – April 16, 2023
Atlas Performing Arts Center
Once upon a time, a rain cloud fell in love with a human. Dolan, who bears an uncanny resemblance to author Hans Christian Andersen, tries to tell this simple and sweet story, but characters in the story keep turning into figures from Dolan's own history of turbulent relationships.
An adaptation, a reimagining, and a critique of The Little Mermaid, SOMETIMES THE RAIN, SOMETIMES THE SEA is a story of romantic, obsessive, and unrequited love.

---
Adapted by James L. Rogers III and Jenny McConnell Frederick from the novel by James L. Rogers III
Directed by Jenny McConnell Frederick
July 2023 / Location TBA
When Angel meets Cupid in a bar and her band gets an opening slot on a tour, life takes some unexpected turns into a past she tried to leave behind. Part rock show, part booze-soaked road trip through the dive bars and dark clubs of the late 90's east coast music scene, Angel Number Nine shows us that the things we need are sometimes found on the roads we tried to avoid.
ANGEL NUMBER NINE will serve as the culmination of 2022/2023 Psychogeographies project DISSONANT CITIES. The show can be appreciated with or without participation in the seven-chapter, year-long project.
---
Created by Kylos Brannon, Adam Ferguson, Jenny McConnell Frederick, Navi, and Jonelle Walker
October 2022 – July 2023
A seven-chapter, season-long experience
across multiple locations in Washington DC
Beyond the bureaucracy and marble columns, there's a steady beat that drives the Nation's Capital. Dive into more than a century of DC music and find out just what it means to be immortal in Rorschach's latest groundbreaking event.
Like our previous two Psychogeographies projects, DISSONANT CITY harnesses the power of both the built and natural world to create a visceral piece of immersive storytelling. Each month participants will receive a map and instructions to travel to a new curated location in the DC area. Along with the map, they'll receive a box of artifacts to engage all five senses while exploring each site with story elements such as letters, music, souvenirs, or photos.
From October through May, each monthly box reveals a new location and a new chapter in the ongoing story. This psychogeographic adventure culminates with the live performance of Angel Number Nine in the summer of 2023.
---

---
SUBSCRIPTIONS FAQ:
What are the Psychogeographies Projects?
"Rorschach Theatre has hit the jackpot with this innovative form of art, incorporating literature, music, mystery, romance, and DC's highlights and history, all steeped in a hope for a better world." -DC Theatre Arts
Launched in 2020, the Psychogeographies Projects are Rorschach Theatre's visionary new experience that takes participants to unexpected locations around their city while a season-long fictional narrative plays out over layers of history and magic realism. Subscribers receive a box in the mail monthly that includes a new Chapter in the story, each box containing hand-crafted objects – letters, drawings, souvenirs, photos, or even snacks – and a map to a location in their city. Rorschach's live in-person summer show culminates the experience.
What is Klecksography?
Klecksography is an evening of 10-minute plays and short films created over the course of a week and inspired by a single piece of visual art–the ultimate Rorschach test! More than 50 emerging artists come together to create this one-of-kind event.
What is Magic In Rough Spaces?
Magic in Rough Spaces features readings and talk backs for three new plays curated and developed by Rorschach from more than 100 submissions from across the country.
When Can I Reserve My Performance Dates?
You'll be able to reserve them as early as a couple months before they open – we'll make sure to email you and let you know before single tickets go on sale so that you can have the first crack at them.
Other questions? Email us at subscriptions@rorschachtheatre.com