410[GONE]: Content Information
In the same way that everyone sees something different in an inkblot, people want different things from their theatre-going experiences. If you're someone who likes to have a lot of background on what the experience will be like before you come to the theatre, read on. This page focuses on CONTENT INFORMATION. If you would like information about the artists and the process CLICK HERE.
There may be some low-key spoilers ahead.
Return to the main 410[GONE] page for schedule and ticketing information
WHAT HAPPENS?
Themes: siblings, love, loss, depression, addiction, suicide, cutting, video games, chinese culture and mythology, chinese-american identity, pickles
410 [Gone] is set primarily in the Chinese Land of the Dead which, as described by playwright Frances Ya-Chu Cowhig, "resembles a disco, arcade or pachinko parlor."  The Goddess of Mercy and her companion the Monkey King live, work, bicker and indulge their vices as they transmigrate souls from the land of the dead via the video game Dance Dance Revolution.  
Parallel stories follow a young woman as she searches for answers about her younger brother's suicide and her brother as he arrives in the Land of the Dead.  As the brother attempts to piece together where he's ended up and how he can get out, his sister, in the Land of the Living, dissects their every past interaction for clues to his current location.
Eventually the code is cracked and the two are briefly reunited and must make a choice about how to proceed forward.
IS THIS PLAY FUNNY OR SAD OR WEIRD OR WHAT?
Yes.  
As with a lot of the work Rorschach chooses, 410[GONE] explores a range of human (and deity) experiences. This play has some dark themes, some truly hilarious moments and a couple of things strange enough to have you contemplating them on the way home. The content and language is at times poetical and elliptical. Ultimately the play is a positive affirmation of the complexity of the human experience.
IS THIS PLAY GOING TO BE APPROPRIATE FOR MY MOM/KID/PASTOR/CO-WORKER/1ST DATE?
"Appropriate" is of course a relative word, but here are a few things to know:
Violence: There's some minimal staged violence and discussions of suicide and cutting. There is one instance in which a character shows his scars from cutting and a scene in which a suicide by hanging is re-enacted in an abstract, dream-like manner
Language: a few instances curse words you've heard and a few that might be new to you, ("turtle fart)."
Explicit Sexual Content: None…(maybe next time.) 🙂
Note the "themes" list above in the "What Happens?" section for more details
HOW LONG IS IT?
About 90 minutes.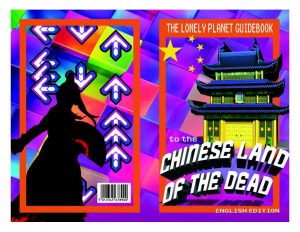 This is a prop created for the play by props designer Rachael Knoblauch but feel free to peruse it in detail here!
It contains some useful information about the world of 410[GONE] (small spoilers)