INSIGHTS
In the same way that everyone sees something different in an inkblot, people want different things from their theatre-going experiences. If you're someone who likes to have a lot of background on what the experience will be like before you come to the theatre, read on. This page focuses on information about THE ARTISTS AND THE PROCESS. If you would like content information for the show CLICK HERE.
Return to the main 410[GONE] page for schedule and ticketing information
More Press and Photos: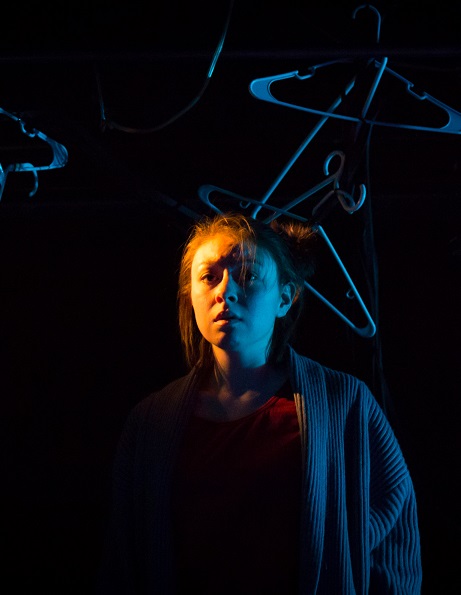 "Worried that tech devices are impinging on family time? Maybe your concerns should extend to the afterlife, too. In Frances Ya-Chu Cowhig's audacious, irreverent and ultimately moving play 410[GONE], the Chinese Land of the Dead has gone pixelated…
"As the story of Twenty-one and Seventeen unspools, another layer of meaning accrues to the distinctive details of the play's afterlife: those telemarketing calls the Monkey King keeps getting; the irrational number imprinted on an eerily generated banner; the fight sequence resembling a computerized martial arts game. All this sensory-overload zaniness begins to seem, poignantly, a metaphor for the disorientation that can accompany great loss."
Being stuck in the world of 410[GONE] might seem like Hell for most people. After all, it is a trippy video game afterlife full of maddening puzzles based on Dance Dance Revolution and manic Chinese deities that get high off of human pain. While it is Hell of a sort (technically more of a purgatory) for both mortals and immortals trapped there, watching this world is heavenly. Audiences drink in the intensity of Rorschach's signature immersive design while a kinetically gifted cast plays out parallel stories of mysterious adventure and devastating loss.
With these parallels, playwright Frances Ya-Chu Cowhig has made a mash up. A traditional literary fantasy hero's journey with SEVENTEEN's attempts to find himself combines with TWENTY-ONE's common contemporary theatrical narrative most identifiable as a "grieving play," where the main characters' objective is to come to terms with a death (think She Kills Monsters or Still Life with Rocket as recently produced examples in the DC area). As a result, 410[GONE] feels both mythic and fresh, penetrating heart and mind with equal ease.
Rorschach Theatre's take on 410[GONE] engages the senses and creates a specific world unlike any other. Besides being visually and aurally stunning – and amusing, thanks to talented actors – it pays off emotionally. All in all, it's a win.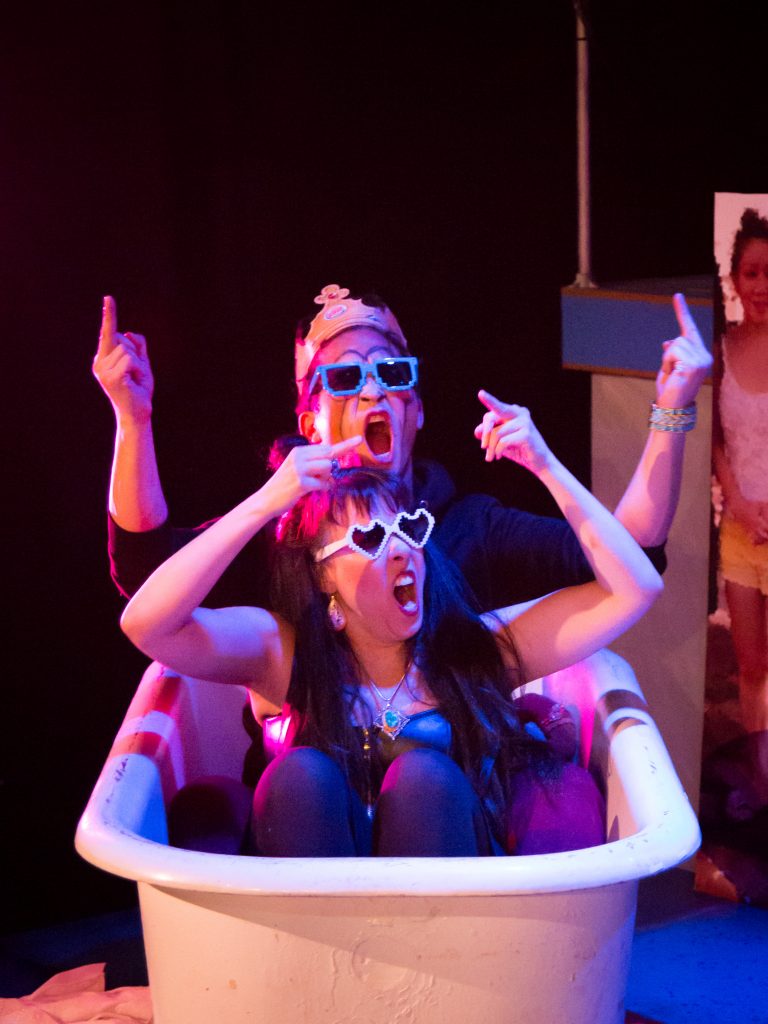 Dark as the material is, the piece is almost constantly funny, weaving ancient Chinese elements in with contemporary pop culture. The shifts in tone are deft – sometimes seismic, but appropriate. Atmospheric elements are impressive, from the epic projections (Kylos Brannon) and set (Debra Kim Sivigny) to the impeccable sound design (Roc Lee). Actors' movements often sync up perfectly with sounds, just like they're in (surprise!) a video game. In a particularly clever scene, Amoruso and Tuazon amp up the physical comedy to spar in vintage arcade style, with the projections and sound matching their every move. It's an immersive, unique experience that's not to be missed.
410[GONE] by Frances Ya-Chu Cowhig and directed by Gregory King Strasser at the Rorschach Theatre was an unexpected delight. The audience is close to the stage and video screens. This intimate experience makes it easy to see the characters, Seventeen and Twenty-One, confront issues of love, loss, and national/cultural identity. Seventeen and Twenty-One are brother and sister of Chinese-American heritage, straddling worlds of Chinese tradition, growing up in another cultural environment with fast food and internalized stereotypes. The Ox-Head serves a Soup of Forgetting but, as it turns out, I have not forgotten this fantasy adventure.
"In the capable hands of Strasser and Rorschach Theatre, Cowhig's post-modern melding of Buddhist philosophy, Chinese mythology, digital-pop-culture, clowning, and family tragedy provides a genre-bending thrill ride that generates both laughter and the contemplation on mortality and loss."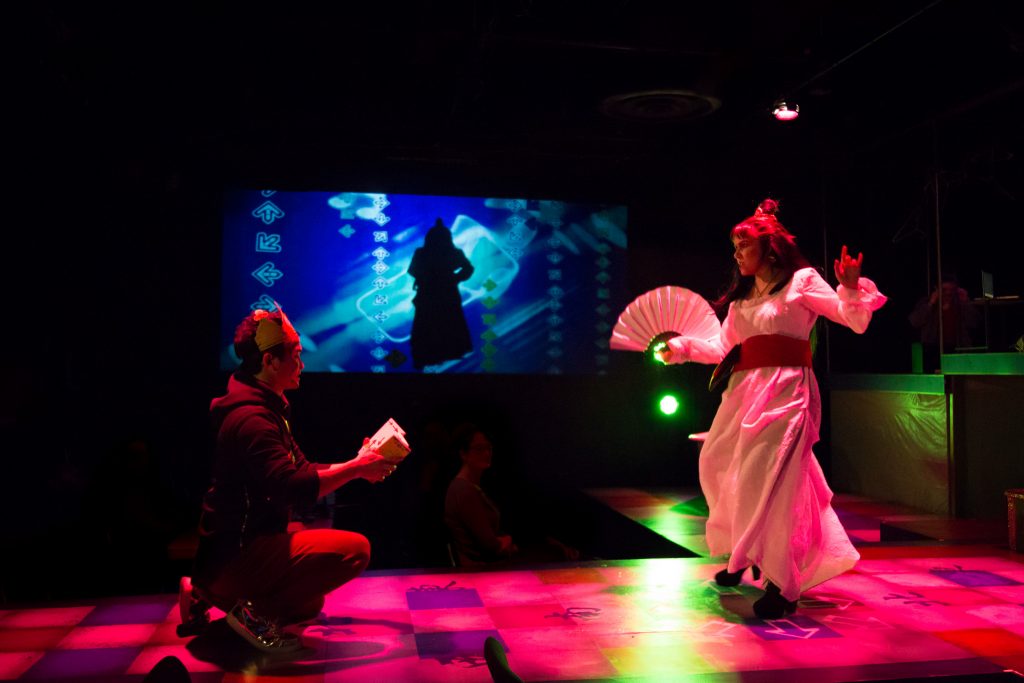 MORE INSIGHTS: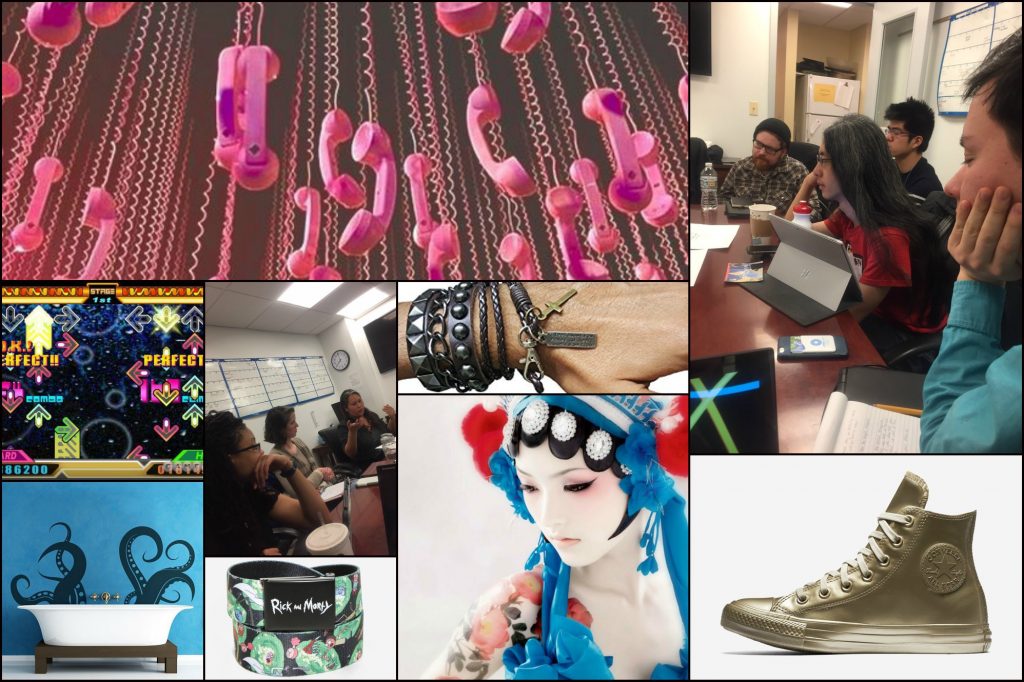 Research images, conversation and inspiration at first Production meeting for 410[GONE]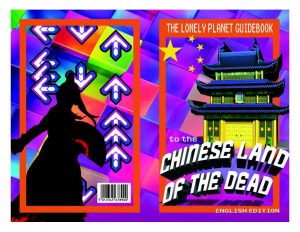 This is a prop created for the play by props designer Rachael Knoblauch but feel free to peruse it in detail here!
It contains some useful information about the world of 410[GONE] (small spoilers)
ABOUT THE PLAYWRIGHT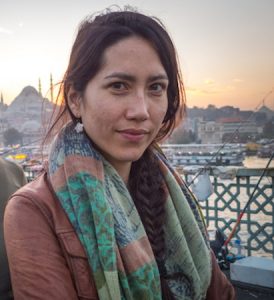 Frances Ya-Chu Cowhig is an internationally produced playwright whose work has been staged at the Royal Shakespeare Company, the National Theatre of Great Britain, Manhattan Theater Club, the Goodman Theatre, Trafalgar Studios 2 on the West End and the József Katona Theater in Budapest. In 2018 her most recent work, Snow in Midsummer, a contemporary adaptation of the Yuan play by Guan Hanqing, will receive its North American premiere at the Oregon Shakespeare Festival, in a production directed by Justin Audibert.
Frances' plays have been awarded the Wasserstein Prize, the Yale Drama Series Award (selected by David Hare), an Edinburgh Fringe First Award, the David A. Callichio Award and the Keene Prize for Literature. She has held year-long playwright residencies at Manhattan Theater Club and Marin Theater Company, and is currently under commission from South Coast Rep, the Goodman Theatre and the National Theatre. In addition to [410] Gone, her plays include Lidless, The World of Extreme Happiness and Snow in Midsummer.
She has benefited from artist residencies at Yaddo, Macdowell, Hedgebrook, Ragdale, the Sundance Playwright Retreats at Ucross and Flying Point, and the Santa Fe Art Institute.  Her work has been published by Yale University Press, Glimmer Train, Methuen Drama, Samuel French and Dramatists Play Service.
Frances was born in Philadelphia, and raised in Northern Virginia, Okinawa, Taipei and Beijing. She received an MFA in Writing from the James A. Michener Center for Writers at UT Austin, a BA in Sociology from Brown University, and a certificate in Ensemble-Based Physical Theatre from the Dell'Arte International School of Physical Theatre.  She is currently a member of the Theater and Dance faculty at UC Santa Barbara, where she has the pleasure of mentoring undergraduate playwrights and directing the Dramatic Writing Concentration.
Check out this great interview with playwright Frances Ya-Chu Cowhig: https://www.americantheatre.org/2015/01/22/the-china-connection-a-conversation-with-frances-ya-chu-cowhig-and-christopher-chen/
VISIT FRANCES YA-CHU COWHIG'S WEBSITE: http://www.francesyachucowhig.com/bio.html
ABOUT THE DIRECTOR
[410]GONE will be directed by Gregory Keng Strasser, an exciting new voice in the Washington community. A young Chinese-American director from Michigan, Strasser's award winning productions of TRIBES and THE WHITE SNAKE won him much acclaim before joining Steppenwolf Theatre Company's Professional Leadership Program in 2016. He was an affiliate artist with the Lime Tree Theatre in Limerick, Ireland and studied Wayang Kulit puppetry, Gambuh dance, and gamelan as a resident artist of Yayasan Bali Purnati in Indonesia. Strasser moved to Washington to work in television at the Shanghai Media Group.
READ ABOUT DIRECTOR GREGORY KENG STRASSER HERE: www.gregstrasser.com