Annie Jump and the Library of Heaven
By Reina Hardy
April 19, 2019 – May 19, 2019
Atlas Performing Arts Center 
National New Play Network Rolling World Premiere
Annie Jump, a small-town teen and science genius, comes face to face with her worst nightmare: a popular girl. When she learns that this girl with great hair might be an intergalactic super computer tasked with bringing humanity to the stars, she must decide what is worth sacrificing to fulfill her destiny. Reina Hardy's (Glassheart) play for all audiences is about finding your place in the universe and intelligent life in your neighborhood.
"…a stellar evening of theatre that takes the best elements of contemporary cultural references, social media, and pop science and turns them into something more than the sum of those parts—an out-of-this-world, all-ages celebration of nerdiness, empowerment, and love."  — DC Theatre Scene
"An adventure that takes you to the very edge of existence and back. Though wide in scope, it tells an intimate story about the potential that lies in all of us… This is a play that fervently believes in the necessity of both individualism and community, and it tells a colorful, delightful tale without sacrificing its deeper themes of isolation. "  — Broadway World
Bizarre? Yes. Imaginative? Absolutely. Rorschach takes an animating look at how even one person can make a galaxy of a difference, and it is a zany ride. — DC Metro Theater Arts
Sponsored in part by Beverly & Chris With and Gerald Yuille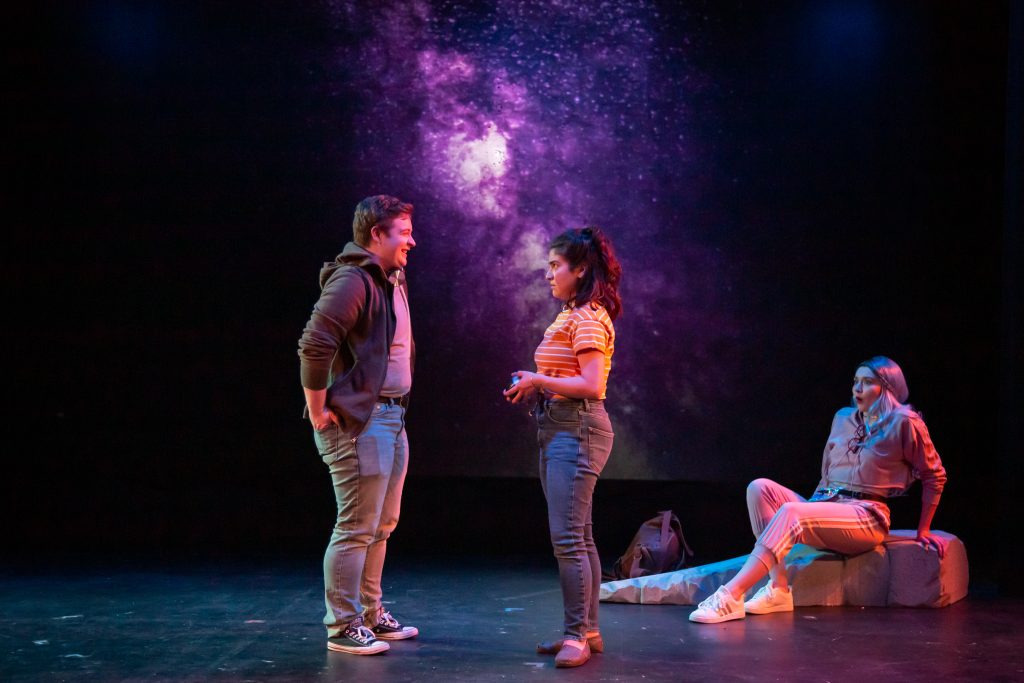 Annie Jump and the Library of Heaven is being produced as a NATIONAL NEW PLAY NETWORK ROLLING WORLD PREMIERE by Renaissance Theaterworks (Milwaukee, WI), Rorschach Theatre (Washington, D.C.), Thrown Stone (Ridgefield, CT), and The Vortex (Austin, TX).
FEATURING Zach Brewster-Geisz, Vanessa Chapoy, Robin Covington *, Aron Spellane, and Emily Whitworth
DESIGNED BY Kylos  Brannon (Video), Julie Cray Leong (Costumes), Katie McCreary* (Lighting), Veronica J. Lancaster * (Sound), Alex Wade (Props), and Matt Wolfe (Set).
WITH Gordon Nimmo-Smith * (Production Manager), Linz Moore * (Stage Manager), Alli Quirk (Assistant Stage Manager), Greg Condon (Technical Director), Chris Foote (Associate Technical Director), Elliot Shugoll (Master Electrician), and Sara Cohen (Dramaturg)
PRODUCED BY Randy Baker and Jenny McConnell Frederick
* Rorschach Theatre Resident Company Member
(Click here more detailed plot summary, content information, age recommendations, etc…and possibly some low-key spoilers ahead.)
(Click here for Photos, Press and Insights including the playwright's bio, interviews and other more in-depth explorations of the show's topics. Also included here are the show-related Other People's Ink events)
(All photos on this page by Ryan Maxwell Photography) 
Rorschach's 2018-19 Season Sponsors include:
Susan & Dixon Butler, Louis & Bonnie Cohen, Jeffery Cunard, CM Kling + Associates, Destination DC, The Nora Roberts Foundation, Pete Miller & Sara Cormeny, Victor Shargai & Craig Pascal, The Morgan Fund, The Share Fund, and The DC Commission on the Arts & Humanities.