DALI: Press, Photos and Video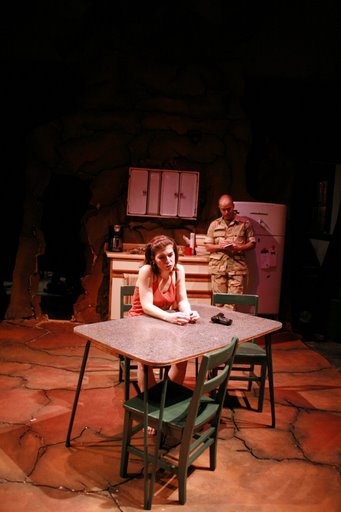 Jose Rivera's slow, sultry, metaphor-drunk moonlight rhapsody turns out on closer inspection to be an embarrassment of rich langauge wrapped around a lean, hard core, and when it's not overdoing the poetic flights, it's a painful human portrait of two once-intimate people trying desperately to stay connected.
The superb-on-a-budget design helps keep things interesting, though, and so do muscular, thoughtful, and above all emotionally complex performances from the two-some at the play's core. Price and Fernandez-Coffey both manage to seem damaged and dangerous by turns, with just enough in the way of neediness and weariness and stoppered anger to help keepp the evening keep the evening feeling unpredicatble from moment to moment.
…a reminder courtesy of a playwright who's got fever-dreams in his blood, that the collision of passion and cold, hard reality can leave you bruised under all the blush.
–Washington City Paper (CLICK HERE for the full review)
"SALVADOR DALI is a beautiful intertwining of such fantastical moments as the one described, and achingly real displays of human interaction."
— DCist (CLICK HERE for the full article)
"Gabby (Gabriela Fernandez-Coffey) and Benito (Andrew Price) handle the hard drama skillfully – both completely engulfed in their characters and their depression."
— DC Theatre Review (CLICK HERE for the full article)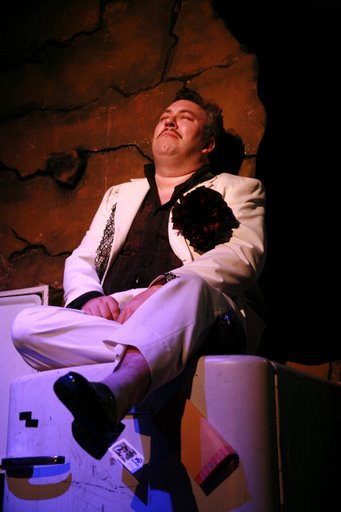 "A beauty with an ugly name. That's REFERENCES TO SALVADOR DALI MAKE ME HOT, the whimsical yet absorbing romantic drama getting a wise, passionate production by Rorschach Theatre.
Director Shirley Serotsky has sure instincts with Rivera's shifting style, and her lead actors circle each other with devastating familiarity, trading barbs with supple romantic insinuation or weary brittleness as needed. Gabriela Fernandez-Coffey gives a fierce yet vulnerable reading of the wife, who has reached such a desperate pitch of loneliness that she flirts with the nearby teenager (the wide-eyed, infinitely florid Cesar A. Guadamuz).
As Benito, Andrew Price, his voice like a blade, brings a necessary machismo and dangerous edge to the play. But he also registers the hurt and dead-end frustrations, both in the military and in the marriage, that make Benito's drama as rich as Gabriela's.
— Washington Post (CLICK HERE for the full article)
FOR A PEAK BEHIND THE CURTAIN:
Visit blog posts tagged "SALVADOR DALI…" by CLICKING HERE