One wild challenge. Sixty artist brains. Eight days to solve it…

Performances June 22 2019 @ 5pm, 7pm and 9pm
Atlas Performing Arts Center
Rorschach Theatre returns to KLECKSOGRAPHY, an annual event that brings together six theatre companies and more than sixty artists (including six filmmakers) to make something unimaginable. Inspired by the ink-blot test for which Rorschach Theatre was named, all participating artists will be shown a single, distinctive piece of visual art.
On Saturday, June 22 this single image explodes into wildly different visions: twelve plays and six films will showcase the aesthetics of some of DC's best small theatres, including Rorschach Theatre, Theater Alliance, Solas Nua, Longacre Lea, Flying V Theatre, and We Happy Few as well as American University.
This re-envisioning of our Klecksography program was based on the results of a DC theatre survey undertaken by Rorschach in the fall of 2017.  More than 40 local artistic directors and producers responded in addition to dozens of freelance artists.  Based on those results, we've invited other companies into our process and rebuilt the program to focus on networking and connection. By providing producers with a high-impact, low-investment way to vet new artists, we aim to close the gap many artists experience in trying to connect with new companies.
This event is sponsored in part by Destination DC
CLICK HERE FOR A COPY OF THE PROGRAM – with individual show titles and credits
THE KLECKSOGRAPHY 2019 TEAM
PRODUCED AND CURATED by Jenny McConnell Frederick and Randy Baker
PLAYWRIGHTS: John King, Soo-Jin Lee, Shawn Northrip, David Pratt, Jared Strange, and Kat White
DIRECTORS: Nicholas Michael Bashour, Vanessa Gilbert, Julia Rabson Harris, Kanea MacDonald, Jjana Valentiner, and Rebecca Wahls
ACTORS: Scean Aaron, Katrina Clark, Rachel Foley, Charles H. Franklin IV, D. Scott Graham, Morgan Charéce Hall, Dannielle Hutchinson, Jasmine Jones, Katelyn Manfre, Rachel Messbauer, Eli Pendry, Andrew Quilpa, Reginald Richard, Danielle Scott, Matt Stover, Alex Turner, Robin Weiner, Michael Yoon
CREATORS OF "KLEX HAIKUS": Alan Gonzales Bisness, Emily Collins, Erin Denman, Serafina Donahue, Richard Fiske, Katie Gallagher, Natália Gleason-Nagy, Reid Herreid, Heather Hicks, Patrick Gallagher Landes, Linda Lombardi, Caroline Lucas, ]Jeff Mikoni, Ashley Milligan, Natalia Nagy, Annie Ottati, Madeleine Regina, Rob Schumacher, and Phil Steinberg
SHORT FILMS BY Sean Bailey, John Blackburn, Ann Gilmore, Hillary Reskin, and Kylos Brannon
DESIGN & PRODUCTION TEAM: Kylos Brannon (Video), Elliot Shugoll (lights), Hope Villanueva (sound), Linz Moore (Stage Manager), Gordon Nimmo-Smith (Production Manager)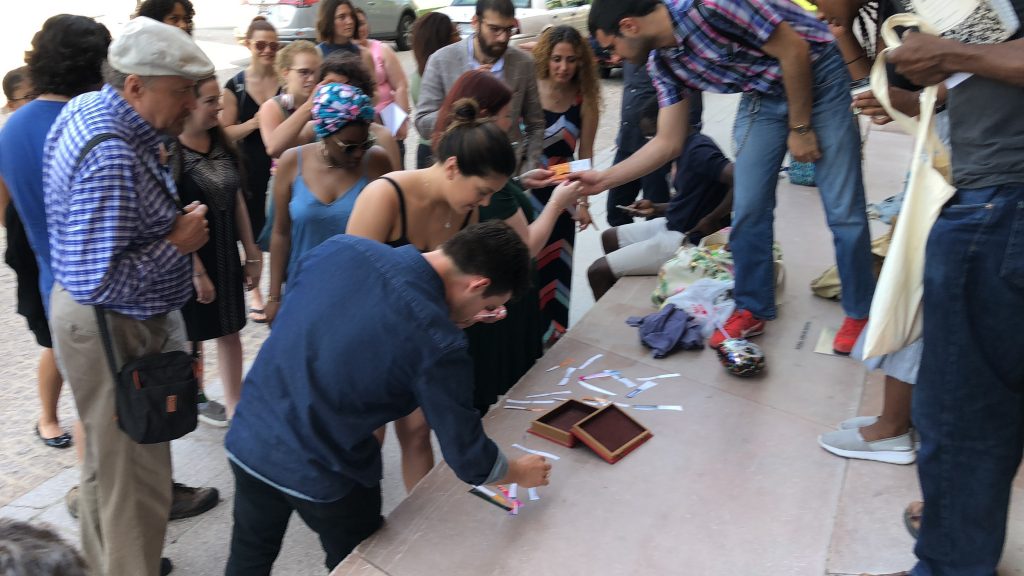 Last years's kickoff event at The National Gallery (Klecksography 2018)