SHE KILLS MONSTERS 2e: Insights
In the same way that everyone sees something different in an inkblot, people want different things from their theatre-going experiences. If you're someone who likes to have a lot of background on what the experience will be like before you come to the theatre, read on. This page focuses on information about THE ARTISTS, THE PROCESS, AND THE PRODUCTION. If you would like content information for the show CLICK HERE.
The magic always starts in rehearsal, so follow us on Facebook and Instagram to watch the show come to life.
You can also check some out the research images used by the director and designers to gather inspiration and share ideas.
(All photos on this page by Ryan Maxwell Photography)
PRESS FOR THE 2019 PRODUCTION:
The entire team at Rorschach has created something truly special and unique with their production of She Kills Monsters. I guarantee that you will not see anything else like it this year, perhaps ever. This group has pulled out all the stops to present a heart-pounding, hilarious, emotional ride celebrating the warrior (and the nerd) within us all. Do not miss this experience.
— DC Metro Theatre Arts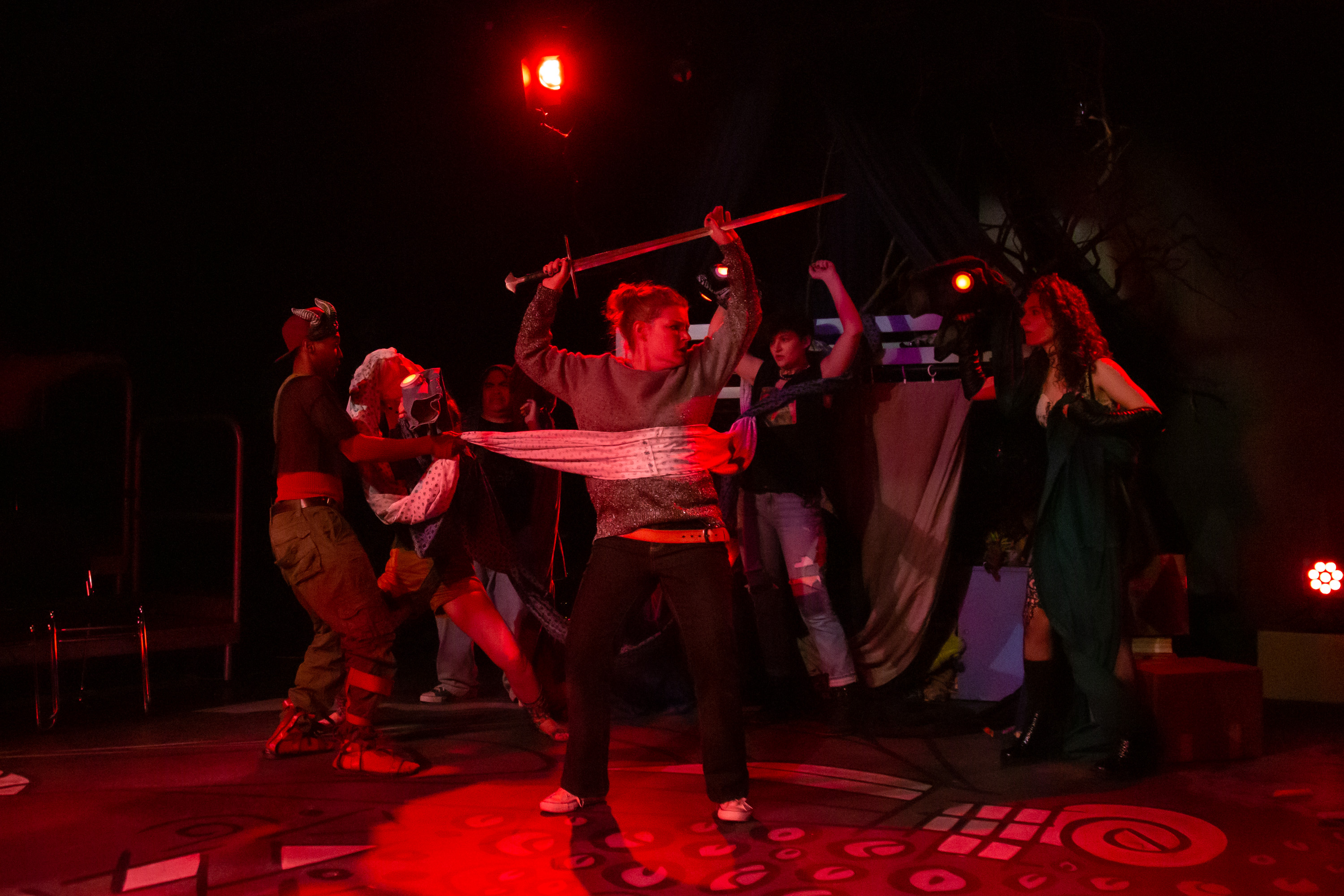 The unadulterated zaniness of She Kills Monsters and the shear joy the cast is experiencing bringing it to the life is more than enough reason to this show. In fact, I encourage you to see it with someone you love and then start a conversation about it afterward—I promise you won't regret doing either.
–DC Theatre Scene
The melancholy sentiment propelling Agnes on her journey, and driving the coming-out, coming-of-age narrative is both deeply felt and delicately rendered. Randy Baker's solid production… lovingly captures just how enthralled a young queer person can be in their own private joy, or pain.
–Metro Weekly
YOUNG ACTRESS RELISHES ROLE IN NEW RORSCHACH PRODUCTION SHE KILLS MONSTERS
(Feature article in the WASHINGTON BLADE about performer Alanna McNaughton)
RORSCHACH THEATRE REMOUNTS AND REIMAGINES "SHE KILLS MONSTERS" AT THE ATLAS
(A conversation with director Randy Baker on the staging and immersive elements of Rorschach's reboot)
---
BEHIND THE SCRIPT: She Kills Monsters
Are you a newbie to the world of Dungeons & Dragons?  Check out the mini-documentary below from the folks at Fandom Entertainment.
PLEASE NOTE: The 15-minute immersive experience that begins the show will require audiences to move through multiple non-theatrical spaces. These spaces are ADA accessible and there will be accommodations made for those who need to sit, but please contact info@rorschachtheatre.com if you have any questions.
---
OTHER PEOPLE'S INK: An Entertainment Curation Society consists of monthly events in which Rorschach artists and audience come together to explore art galleries, cinema, author events, and other adventures that feature work with a Rorschach flavor.
The company's upcoming OPI events will connect with the themes and ideas of SHE KILLS MONSTERS.
On November 6, Rorschach hosts a Book Club conversation about Alison Bechdel's FUN HOME.  We'll chat about this fresh and brilliantly told graphic novel memoir marked by gothic twists, a family funeral home, sexual angst, and great books. Like SHE KILLS MONSTERS, the book explores LGBTQ topics and themes of loss and  recovery. The book also does this in a witty and irreverent way. Unlike any book club you've experienced this will be a little bit literature, a little bit theatre and a fair amount of beer, wine or coffee from Solid State's bar. (Maybe that last part is like other book clubs you've been to…) Should you come even if you haven't read the book? YES!
---
ABOUT THE PLAYWRIGHT
QUI NGUYEN is a playwright and TV/Film writer. His work, known for its innovative use of pop-culture, stage violence, puppetry, and multimedia, has been lauded as "Culturally Savvy Comedy" by The New York Times , "Tour de Force Theatre" by Time Out New York , and "Infectious Fun" by Variety. His plays include VIETGONE (2016 Steinberg Award, 2016 LADCC Ted Schmidt New Play Award, 2016 Kennedy Prize Finalist); POOR YELLA REDNECKS; LIVING DEAD IN DENMARK (Produced by Rorschach in 2009), among others. For TV/film, Qui's written for AMC, SYFY, PBS, and Marvel Studios, where he is an alumni of the Marvel Studios Writers Program. He currently writes for Netflix and Walt Disney Animation Studios. His company, Vampire Cowboys is often credited for being the pioneers of "geek theatre."
ABOUT THE DIRECTOR
Randy Baker is a playwright, director and the co-Artistic Director of Rorschach Theatre in Washington DC. Recent projects with Rorschach include writing the play FORGOTTEN KINGDOMS and directing VERY STILL AND HARD TO SEE (Five Helen Nominations including Best Director). He has directed numerous other shows with Rorschach including the first run of SHE KILLS MONSTERS as well as THE ELECTRIC BABY, THE MINOTAUR, and AFTER THE QUAKE, among countless others. Some recent shows he has directed outside of Rorschach include the seven-room living installation piece, HELLO, MY NAME IS… at The Welders (Three Helen Hayes nominations including Best Director), a shadow puppet gamelan-inspired A MIDSUMMER NIGHT'S DREAM at WSC Avant Bard, and his own adaptation of RASHōMON at American University. His adaptation of THE LEGEND OF HANG TUAH will premiere at Pointless Theatre next summer.
"SHE KILLS MONSTERS has to be the funniest play about grief I've ever read and the staging for 2019 allows audiences to experience that story in a new way. This production's staging is more intimate. It begins with small groups engaging in an immersive journey through a number of locations and settles into a space that will allow audiences to feel the wind from the swish of every sword. Its intimacy is thrilling but it also allows for delicate character moments that wouldn't be possible in a larger space."