Now Playing through April 16!
By Julia Izumi
Directed by Gregory Keng Strasser
Performing at the Atlas Performing Arts Center
1333 H Street NE, Washington DC 20002
Directions to the space
March 24 – April 16, 2023
Shows on Thursdays, Fridays, Saturdays at 7:30pm
and Sundays at 2:30pm
with an added show on Sat, April 15 at 2:30pm
and no show on Sunday, April 2
Pay-What-You-Can Previews March 24-26

Individual tickets for this production are sold through the Atlas box office (they are not available on our ticketing site). 3-show Subscriptions are still available through our ticketing site HERE.
"As much as SOMETIMES THE RAIN, SOMETIMES THE SEA looks, sounds, and feels like tasty fluffy cotton candy, it's a cleverly spun confection concealing a shiv."
—DC Theater Arts
SOMETIMES THE RAIN, SOMETIMES THE SEA achieves something that other subversive fairy tales don't: a real sense of danger. Fiction authors often say at a certain point that they're not writing their stories, their characters are. This show captures that literary dynamic exquisitely, and unearths the mature stories that fairy tales sometimes can only imply.
—DCist
"Strasser's deceptively complex production is a confectionary delight with a twang of heartbreak."
—Washington City Paper
Once upon a time, a rain cloud fell in love with a human. Dolan, who bears an uncanny resemblance to author Hans Christian Andersen, tries to tell this simple and sweet story, but characters in the story keep turning into figures from Dolan's own history of turbulent relationships. An adaptation, a reimagining, and a critique of The Little Mermaid, SOMETIMES THE RAIN, SOMETIMES THE SEA is a story of romantic, obsessive, and unrequited love.
The play runs 95 minutes with no intermission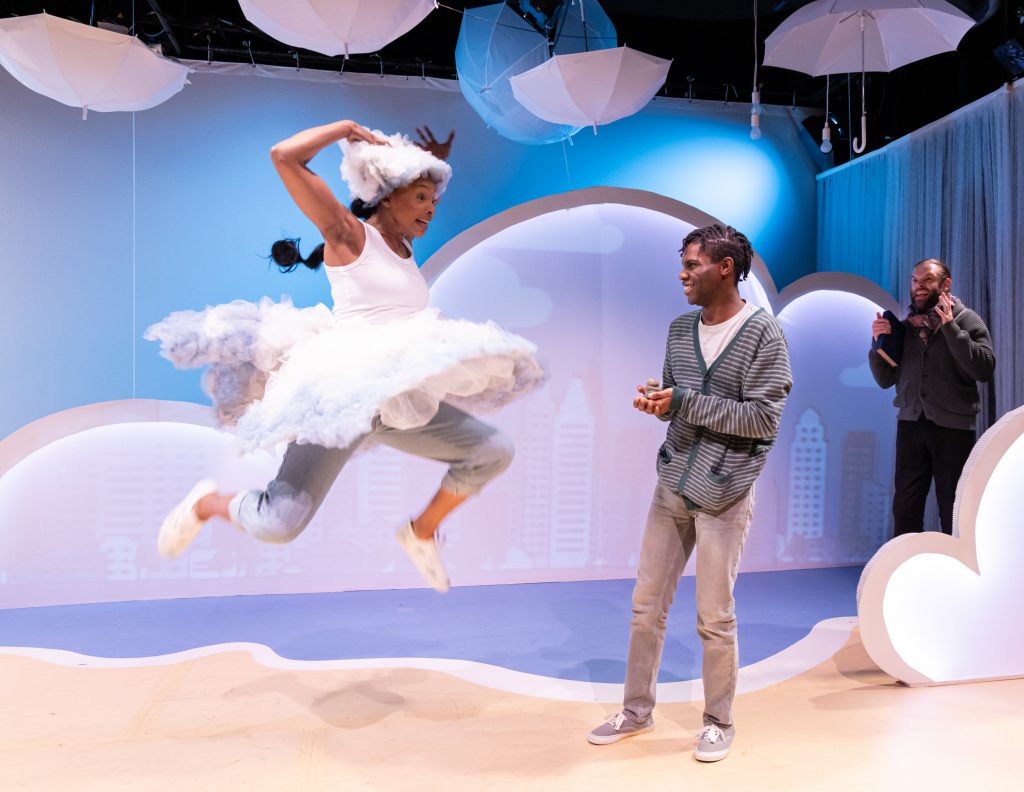 FEATURING Janine Baumgardner, Jordan Brown, Sydney Dionne, Colum Goebelbecker, Jordanna Hernandez, Jolene Mafnas, Nick Martin, and Arika Thames.
UNDERSTUDIES: Nathanael Hatchett, Daniella Ignacio, Karen Lange, Aron Spellane, Majenta Thomas
DESIGNED BY Sarah Beth Hall (Scenic Designer), Alexa Cassandra Duimstra (Costume Designer), Dean Leong (Lighting Designer), Veronica J. Lancaster (Sound Designer), Rooster Skylar Sultan (Props Design), and Hailey La Roe (Video Designer).
WITH Caraline Jeffrey (Stage Manager), Natasha Sánchez (Assistant Stage Manager), Simone Schneeberg (Technical Director), Ben Harvey (Master Electrician), Emily Sucher (Intimacy Coordinator), and Adam B. Ferguson (Production Manager).
PRODUCED BY Randy Baker and Jenny McConnell Frederick