Helen Hayes Recommended!
"An intelligent mix of classicism and whimsy"
–Washington Post
"Touching, intelligent, and enjoyable"
–-DC Theatre Scene
"This riveting new work is simply impressive beyond compare" –-DC Metro Theatre Arts
"Absorbing and inventive work" 
–-Washingtonian
For more photos, video and reviews, CLICK HERE
A young man with the head of a bull paces his cage and contemplates his fate. Across the sea a warrior sets sail with just one goal.  Between them, a girl is ready take on the world… as soon as she can win a Connect Four game.  In this smart and sexy modern retelling of the famous myth, playwright Anna Ziegler (Photograph 51, Dov and Ali)  creates a whimsical, haunting and poignant tale about the difficulty of writing your own story.
FEATURING Frank Britton, Sara Dabney Tisdale, Colin Smith, Josh Sticklin, Jjana Valentiner and David Zimmerman
DESIGNED BY Lauren Cucarola (Costume Designer), Stephanie P. Freed (Lighting Designer), James Bigbee Garver (Sound Designer), David C. Ghatan (Set Designer) and Justin Titley (Props Designer)
WITH Jess Jung (Assistant Director) and Hannah Blechman (Stage Manager)

* WHAT IS A JOINT WORLD PREMIERE?
Rorschach Theatre is thrilled to be presenting its first joint world premiere with Synchronicity Theatre. Their production ran from October 26 – November 11, 2012. But what is a "Joint World Premiere"?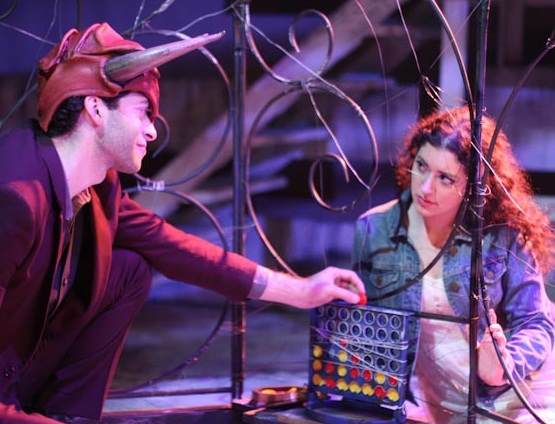 Often, a playwright gets a full production of a show (the world premiere) but then has to wait for a year or more until a second theatre picks it up.  With the 'Joint World Premiere' model, theatres around the country are coming together to produce new work in a faster and more ambitious time frame.
How it works: 2 or more theatres come together and agree to produce the work within 12 months of each other. The playwright gets multiple productions with different artistic teams in a compressed time, which really gets the artistic juices flowing for a new play; and the theatres (and our audiences!) don't have to wait to see great work.